There is loving energy all around you – it surrounds you and moves through you.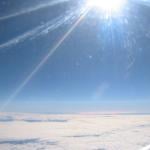 The entire universe is made of this energy – and everything is filled with an immense, loving presence – so immense it's beyond words. You are a very special and loving soul here – and a very important part of this divine presence. You do belong – and you've always been loved, safe, and cared for. You've been given the gift to create whatever experiences you desire.
Your soul is playful. …You came here to play, to create and to have lots of different experiences. You've never done anything wrong – and you never will. You've just been playing. You may have forgotten that. But you've always been safe and loved unconditionally.
We haven't yet been trained to believe in them, but they do exist. We didn't know other countries existed or other planets – so it's not hard to imagine we haven't known about other universes.
Pamala Oslie is an author, consultant, radio show host, professional psychic intuitive, and aura expert. Pamala has appeared on ABC, CBS, NBC, CNN, FOX, The Dr. Oz Show, The View, The Ricki Lake Show, Coast to Coast with George Noory, Hallmark's Better TV, Gaiam TV with Lisa Garr, and many other television and radio shows. She has also been featured in many national magazines.
Pam is the Founder of AuraColors a site designed to help you create love, joy and fulfillment in EVERY area of your life. She also developed LoveColors, this site is designed to help you find love and friendships by matching you with people who have compatible aura colors.