What is THE MOMENT?
The Moment is USA's first inspirational-reality series where nine individuals are given a second chance to pursue their dream job. As these participants explore the lingering "What If" questions they may find answers that ultimately change their lives forever.
What makes THE MOMENT special/different?

THE MOMENT is a rare find in the world of reality television, it is an inspirational series that will appeal to audiences of all ages and provide great fodder for discussion about second chances.  Viewers will root for these individuals and will be left with a renewed energy to rediscover their own passions and dreams.  They will also discover that obtaining your dream often leads to a difficult crossroads as they watch these individuals face the choice between the second chance at the dream in front of them and the life they have been living until now.
How does the participant get this opportunity?
A family member or friend is behind the nomination of the individual who we meet in each episode.  This person's dream was sidelined by another priority in life (illness, financial, familial) and we surprise them with a second chance to rediscover it.  The new opportunity includes a two-week intense training from a world class mentor in preparation for an audition for their dream career – perhaps the most important job interview of their lives.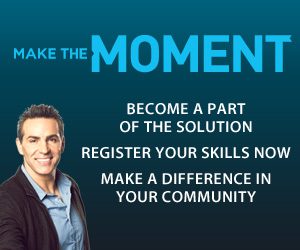 How can Churches get involved?
As an extension of the show, Make the Moment.org has been launched to encourage churches to get involved.
How much do you know about the members of your church? Do you know who is handy with a wrench, who can balance a checkbook in the blink of an eye, who can play piano or bake a cake?
Make the Moment can help you unlock the skills & talents in your congregation. With that kind of information, what kind of difference could you start making in your community? With that kind of knowledge, where will God lead your church?
The website is full of tools and videos to use in the outreach to your community.  There is a pastor toolkit to help you get started.