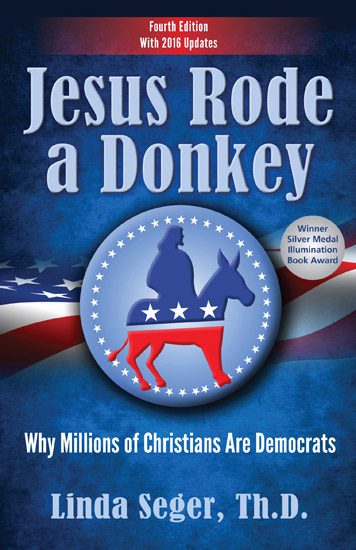 I asked my friend and Friend (Quaker) Linda Seger to share insights from her book Jesus Rode a Donkey: Why Millions of Christians are Democrats.  Her biblical knowledge and deep analysis inspire me — and I think it will inspire you, too!
by Dr. Linda Seger, ThD
There is much disagreement about exactly what we should be changing in our nation. Jews and Christians often look to Scripture for some insight, but the Bible tells us nothing about many of the issues that confront us in contemporary society—whether we should talk to or negotiate with terrorists, what our energy policies should be, what kind of health care or educational system we should have. But there is one area in which the entire Bible is absolutely clear—we are to help the poor, the needy, widows and orphans, the broken-hearted, and the oppressed.
This is not just an individual command, but a command to nations. In Isaiah 10:1-2, God scolds the leaders of nations, "Shame on you . . . you who make unjust laws and publish burdensome decrees, depriving the poor of justice, robbing the weakest of my people of their rights, despoiling the widow and plundering the orphan." Throughout the entire Bible, we are told God is a stronghold for the oppressed, and He will not desert them. He listens to the laments of the brokenhearted. He fills the starving, and rescues those in chains and misery from hard labor. He gives the hungry a home and blesses them with a bountiful harvest. As The Hands of God, we are asked to be merciful and to show justice. The Spirit of God does not stop at the ballot box – but continues through the policies we vote for and care about.
Can We Agree on Helping the Poor?
When writing my book, Jesus Rode a Donkey: Why Millions of Christians Are Democrats, I had presumed that this was one issue where we could find agreement among Jews and Christians. I was wrong. Although there are more than 2,000 verses in the Bible about the need for individuals and nations to help the poor and the oppressed, there is a powerful group of conservative Republicans who do not believe the Bible on this issue. They believe individuals and churches are asked to help the poor, if they so desire, but not nations. They believe charitable giving should only come from those who wish to give. I must admit I was shocked to learn this. After all, this idea is coming from conservatives and fundamentalists who say they take the Bible literally. As a result of this theology, government programs are cut by Republicans whenever possible. Health care for the poor is de-funded. Getting an education or getting medicine or being able to buy or rent a house become costlier because the government won't help. Discrimination continues. People suffer from tornadoes, hurricanes, and forest fires. Some say the liberal Democrats as giving far too many handouts, and the government shouldn't be in that business. But the Bible clearly tells us that leaders and rulers and nations have an obligation to give justice and to remove oppressive burdens.
Our Budget Shows Our Priorities
We know what the government treasures by seeing who gets the money. Where is the Spirit in our voting choices? What are the values we care about? Showing we care about God's creation by addressing climate change? Working toward clean energy?  Making college and quality education accessible? Reforming the criminal justice system? Preventing gun violence? Addressing healthcare, immigration reform, repairing and strengthening the infrastructure, working for equality, overcoming discrimination, racial justice, preserving Social Security and Medicare, helping veterans, and preserving voting rights? The Most Rev. Frank Griswold, former presiding bishop of the Episcopal Church, USA, said there are three questions that should be asked about any budget: "Is the budget compassionate? Does the budget strive to serve the human family, both at home and around the world? Does the budget serve the common good?" These same questions can be asked about candidates and policies as we look for the national expression of Mercy and Justice.
********************
Dr. Linda Seger is the author of 15 books, including Jesus Rode a Donkey: Why Millions of Christians are Democrats. She has a Th.D. In Theology and Drama. She is a Quaker and a member of Colorado Springs Friends Meeting.
Photo by Julie Gelfand