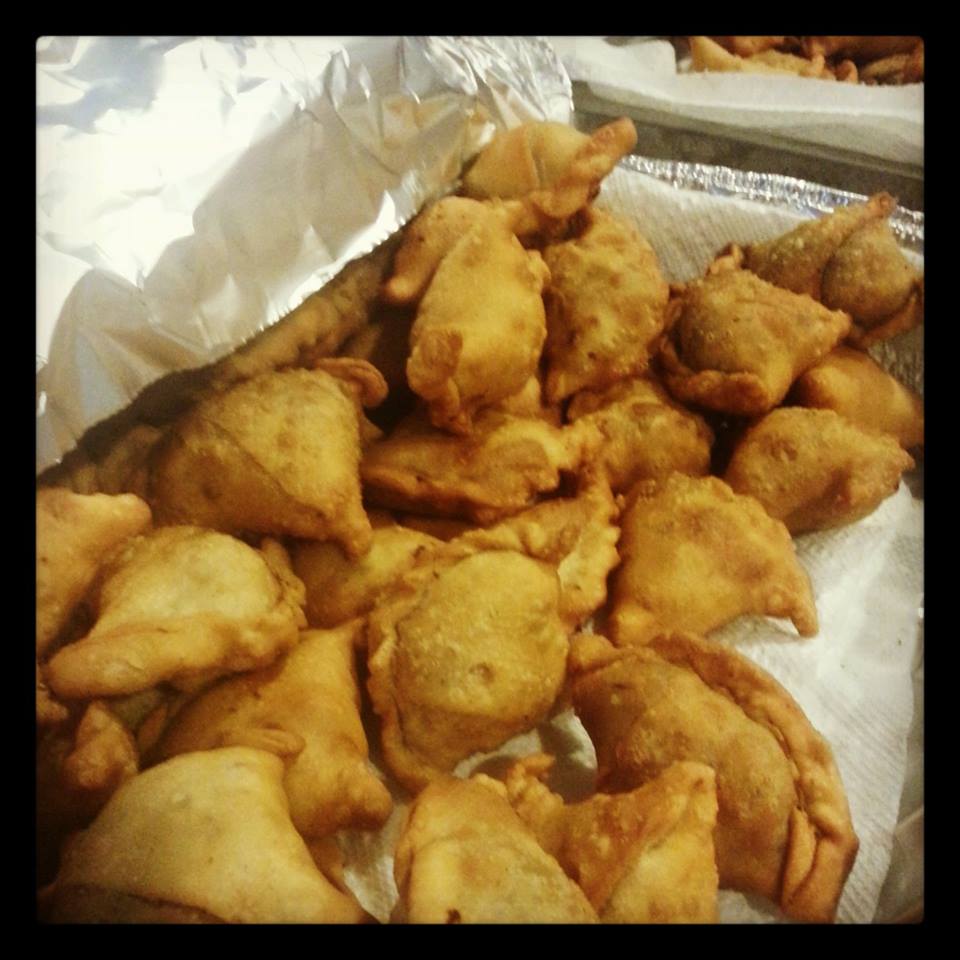 This post is going to seem like a weird and abrupt departure from my last piece, which was about my participation in a Jewish study program in Jerusalem, but dangit I had to share this before Ramadan. So if you are having trouble transitioning from the Israeli-Palestinian conflict, maybe this will help: This Ramadan I pray for peace between Israelis and Palestinians. Because Ramadan is a time for peace. It is also a time for not eating food. But is also kind of a time for eating lots of food. For Pakistanis, much of that food is deep fried. And the best deep fried thing ever created by man or woman is the samosa.
See, it wasn't so hard.
I've been a wife and mother for 18 years and done a lot of cooking in that time. Like loads of it. A few things I've perfected. One of them is the keema samosa. I admit, I do not make the dough from scratch because I have not yet lost my mind. But I discovered a shortcut that will give you fantastic, perfect iftar size samosas.
This Ramadan, my gift to you all is my samosa making trick. I expect duas in return. Scroll down past all these words to get to the picture tutorial. Samosa heaven awaits you this Ramadan. Get to it.
Step 1:
Make your samosa filling. I'm not going to give you a recipe for that. It will depend on what kind of meat or veggies you like in your samosas. I use minced beef or chicken, fry it in a little bit of oil with generous quantities of minced garlic, ginger, and cumin seeds. Salt to taste. Once it cools I add chopped fresh green chillies or jalapenos, cilantro, and onion. You can make a vegetarian filling with the traditional boiled potatoes, roughly chopped, add frozen peas, salt an cumin, and again the fresh chopped chillies, cilantro and onion. One of my favorite fillings is chopped potatoes, frozen corn, chopped jalapenos, and lots of shredded cheddar cheese, seasoned with salt, cumin, and pepper.
Regardless make your filling and let it cool
Step 2:
The secret to my samosas is empanada wrappers. Yes, frozen, amazing, perfectly sized empanada wrappers. You will not only thank me for this, you will love me for it. Get some, thaw them, cut them in half. I use the Goya brand, but I'm sure others are just as good.
Step 3:
Follow the picture sequence to show you how I fill and wrap them. Use a little water to help seal the edges better but don't soak them. Dough will break down.
Step 4:
Put them in a tray or plate as you're making them, but don't overlap them or let them touch. I lay them in a single layer, cover it with wax paper, make another layer, etc etc.
Step 5:
Fry them fresh or freeze them. I just pop the entire plate with a few layers of samosas built up into the freezer. Once they're frozen I transfer to a freezer bag to use for the rest of the month. Don't store them in the fridge, not even overnight. The dough will dry out. That's a bad thing.
Step 6:
Fry them directly out of the freezer in at least 3-4 inches of medium hot oil. I fry for about 3-4 minutes per batch, turning them over so they get brown all over.
Step 7:
Enjoy the accolades of family and friends and be prepared for people to want MOAR. And MOAR. And MOAR. Also, serve with chutney. Because it's the right thing to do.