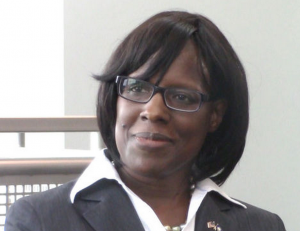 When will the pundits and pollsters finally admit their stupidity?
This week in Kentucky, the first African-American was elected to statewide office in state history.
The office? Lieutenant Governor. The winner? Jenean Hampton, a loud and proud Tea Party activist.
It shouldn't shock the mainstream media that strong black women join the Tea Party in order to get government working again, but of course it did.
National Review has more details:
Both Bevin and Hampton are Tea Party activists who have never held elective office. Hampton's path certainly represents triumph over adversity. Born in Detroit, the 57-year-old Hampton and her three sisters were raised by a single mom who lacked a high school education and couldn't afford a television or a car. But Hampton was determined to better herself. She graduated with a degree in industrial engineering and worked for five years in the automobile industry to pay off her college loans. She then joined the Air Force, retiring as a Captain. She earned an MBA from the University of Rochester, moved to Kentucky and became a plant manager in a corrugated packaging plant. Then she lost her job in 2012.

She used her free time to start a career in politics and becoming active in the Tea Party. She ran a losing race for state representative in 2014 but won an early endorsement from Senator Rand Paul. She was tapped by Bevin to be his running-mate earlier this year.

"I'm aware of the historical significance. People point it out … Really, I just never think about it," she says."We're different races, different sexes, he grew up in the country, I grew up in the city. We represent a broad range of the Kentucky demographic."
This is why I'm a proud member of the Tea Party too. We're tired of the Democratic Party using African-Americans as pawns without really helping them. We're tired of both parties forgetting about regular people trying to put food on the table and get kids through school.
Jenean Hampton has told some that sometimes you find yourself sitting on the couch and you get fed up and you get involved.
I'm glad she did. Kentucky will be better off. So will America. Give 'em hell, Jenean!
(Photo: The Trail Blazer Online)
Read more on the Patheos Faith and Family Channel, fan me on Facebook and follow me on Twitter!