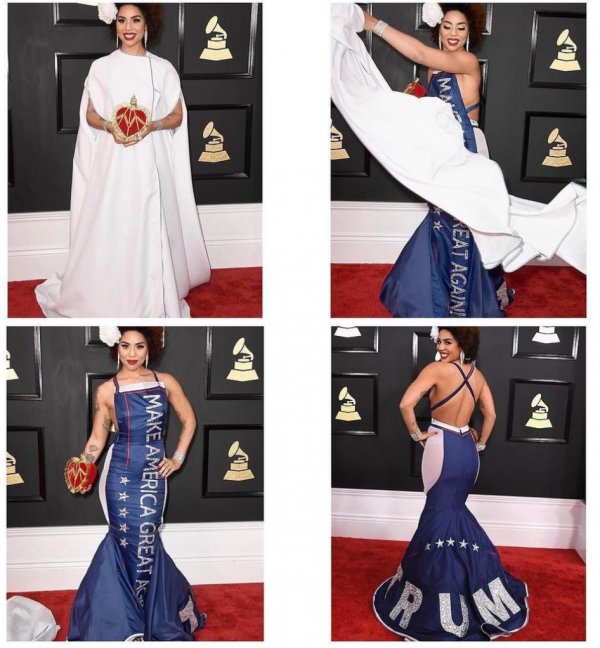 Singer Joy Villa decided to take a chance last night at the GRAMMYs, by actually surprising everyone.
She walked in with a white shawl over her dress, but then dramatically revealed the most amazing, pro-America, pro-Trump dress ever.
"I hope you enjoy tonight's #grammyawards2017 and remember to forget your problems and focus on the future! You are infinite and beautiful and no one can stop you but you. So go out and celebrate yourself as a winner no matter what, together with those you adore."
When she posted a photo of the amazing dress, her fans came out in force. And she also added a few more.
A few hours later, she posted, "I'm speechless…you, my amazing fans and supporters have put me to #16 on the iTunes Top Albums Charts!" And then, this post sent liberals into confusion:
Joy Villa had 21,000 followers an hour ago. She now has 32,000. #maga #joyvilla @joy_villa

— PleaseVoteTrump (@PleaseVoteTrump) February 13, 2017

Oops! Now she's almost to 70,000. (Follow her here.) And then:
Gay designer @andresoriano created tonight's showstopping #MakeAmericaGreatAgain dress for @Joy_Villa at tonight's #GRAMMYs #MAGA pic.twitter.com/s1u1yDab9X

— LogCabinRepublicans (@LogCabinGOP) February 13, 2017

This goes to show that Americans are NOT afraid to show their patriotism… and will reward those artists who aren't ashamed of the country that's given them every opportunity.