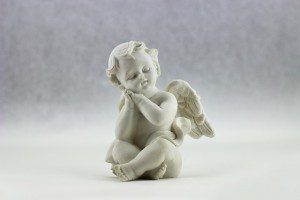 I just got done with the 25th anniversary edition of Joan Wester Anderson's Where Angels Walk: True Stories of Heavenly Visitors. I'd never read the original volume; this one has been updated with several new stories and a retrospective by the author.
Where Angels Walk is a long compilation of stories, obviously mostly unverifiable, by people who have experienced angelic intervention in their lives. Some of these people are famous: Corrie Ten Boom, Saint Pio and Mother Angelica make appearances. Many are unknown to me, and some are completely anonymous. The stories are grouped loosely according to theme– situations where angels prevented car accidents or visited bereaved people in church, where they appeared looking like normal people and where they appeared in long luminous white robes.
There isn't a lot of uniqueness here. Each story is very short, written in a uniform fashion, and "uplifting" in a warm, Touched-by-an-Angel sort of way.
To me, it's a little tedious.
I know the book wasn't meant to be a serious lesson in theology or a piercing look at the Christian life; it was meant to be a series of readable, uplifting testimonies on the reality of angels, and it does that. But I didn't care for it.
I believe in angels, and I believe in miracles. I've seen them quite a few times. They've happened to me. I believe that the angels are always present and assisting, even when their presence is not discernible in the least.
And those are the stories that interest me most, because that's the place I find myself most often: the place where angels aren't discernible in the least. The darkness between miracles. The long night punctuated by brilliant auroras. I think this is what life is like for most people, most of the time. We live in a world permeated by grace, but so often grace comes in the dark. And the grace that comes in the dark is in many ways the most wondrous grace– the consolations show us what's there all the time, but the grace in the darkness is what keeps us alive.
I like to ponder those times most of all. Times when I prayed for a miracle and didn't get it; times when only the intervention of angels could have saved me, but I wasn't saved. Times when the pain was so deep it felt like I could only believe in God by sheer force of will, and even that seemed to ebb away to nothing near the end. And yet, here I am, by the grace of God, and here you are despite what you've suffered. What a wondrous grace that is.
Of course, a book on dark grace would likely not make the New York Times Bestseller list or appear on Oprah. John of the Cross had a prolific but not a lucrative writing career.
In any case, this book itself is harmless and pleasant, and might be of interest to some of my readers.
(image via Pixabay)