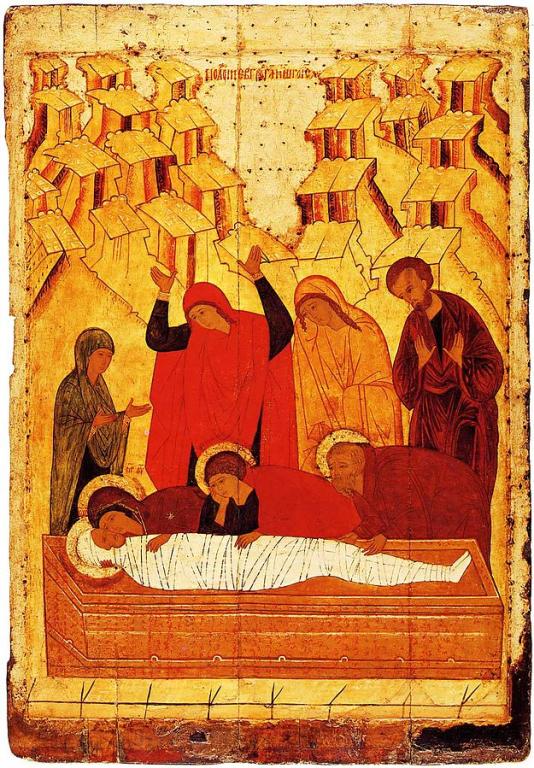 We still don't have a way to get to the church that's become home.
I don't know when or if we'll be back to that particular location at this rate.
I was too sick to go to any liturgy, Eastern or otherwise, on Holy Thursday.
I was too sick to go out at all on Good Friday.
I felt better, and had arranged a ride, to the Easter vigil and the Latin Catholic church I'd attended years ago before I started going to the Eastern rite. It doesn't feel like home anymore, but we were grateful to be driven to any liturgy.
Of course, it wouldn't have been Holy Week without one more mix-up.
Through a series of mistakes that were perfectly understandable but would be boring to mention, our ride was very late. She finally got to our house, embarrassed and full of apologies, ten minutes after Mass had stared. We ran in just in the middle of the creation narrative, when God was calling forth the fish and the birds. There were no more seats, but A young man sitting in the extra chairs in the back saw my new purple cane and moved out of my way.
I'm embarrassed to use a cane. I put off getting one for years. I only need it some of the time– for balance when I'm exhausted, or to take some of the weigh off of my feet if they go numb or get chewed up by fibromyalgia pins and needles. I'm especially embarrassed to take someone's seat just because they see my cane and feel sorry for me. But there I was: Catholic but not THIS kind of Catholic, not at heart; not able bodied but not "really" disabled, or at least it felt that way; at the Easter Vigil but not on time or feeling in a Resurrection mood. I sat down, so that I wouldn't offend by refusing a courtesy. I stood for the prayers after the psalms. I sat back down, and found that the generous man's toddler sister had slid into my chair.
The Gloria was sung in Latin. I know most of the Mass prayers in Latin, but I'd forgotten big chunks of the Gloria, and I couldn't reach the hymnals in the pews to read along. I sang what I remembered and hummed what I didn't. "Gloria in excelcis Deo, et in terra pax hominimus, bone voluntatis, Laudamus te, benedicimus te, glorificamus te."
There was no celiac chalice; I hadn't got there in time to ask for one.
My ride took me to church again on Easter morning, and I did get there on time to ask for the chalice. I sang the hymns in English, and I walked up to Communion with my cane. "I started going to Mass twice for Easter because I'm a daily communicant, and it felt so awkward and wrong not receiving Communion on Easter Sunday of all days," chatted my friend on the way home.
I agreed heartily. Everything felt awkward and worse than awkward to me. I was deeply homesick, without knowing where home was.
I was homesick all week; I was homesick for the Divine Liturgy, and for every place I've left behind, and for the unknown place I was going next. Most of all I was homesick for Holy Week, out of which I felt cheated.
Then I remembered that the Orthodox have their Holy Week a week after ours this year. And one of their churches is on the bus route.
And that's how, at three in the afternoon on what was my Easter Friday, I tiptoed into an Orthodox church to pray Good Friday vespers.
The Greek Orthodox church has more in common with a Ruthenian church than a Baroque Latin church with an organ does, but it's not the same. Greek doesn't sound like Slavonic. The tones for the chants were all different. I sang along with the words I remembered, and hummed what I didn't. "Today, he who hung the Earth upon the waters is hung upon a tree. Today, he who hung the Earth upon the waters is hung upon a tree. Today, he who hung the Earth upon the waters is hung upon a tree."
The children of the parish held the pall that Father put the painted icon corpus into; then he walked around the church with another cloth icon held over his head, the censer going before him perfuming the church with smoke. He placed the icon in the spindly wooden bier at the front of the church, which was meant to represent the tomb.
Father invited everyone to crawl under the bier and out the other side, and then venerate the cross.
I was half certain that this was a prank. But Father did it– and then each of the altar servers did it, then the deacon, then any of the congregation who could bend over that far.
Then I did it. I set down my purple cane and prostrated myself before the icon three times, kissed it, and crawled under the tomb. I embraced the cross. I collected my cane and meant to leave.
But I didn't go home right away. I ended up chatting with Father for a long time. He told me all about the church. Their church didn't have any matches, he said, not a single match, because the fire he kept burning in their candles day after day came from the Paschal Fire in Jerusalem– yet another tradition I'd never heard of. We talked until I missed the last bus. Father wanted to drive me home, but he had only a short time to get ready for the next Good Friday service, so I walked– up Market street, across the meadow, through the woods, up that mysterious cement staircase where the homeless people camp at night and back to LaBelle.
It was warm, though the air smelled of the coming snow. The meadow was pleasant with its new grass and dandelions. The woods, however, were worse than I've ever seen them. All the trees still looked dead. The brush and vines were ghost-white deformed skeletons tangled with rotten old clothes and convenience store bags. The staircase was a mosaic of broken liquor bottles- brown, green and clear glass, crunching like ice under my church shoes. I once hear a song dancing among broken glass. Bits of it stuck with me– not enough to form a tune or sing at all, but I tried to hum as I walked. "As I danced among the broken glass I thought of you today… I hope that you have stumbled on a lighter path."
The path is not light right now. It goes in and out of strange places, to the backs of strange churches, under tombs, over cement and among broken glass. It sounds like Greek, Latin and shattering ice. It smells like garbage, incense and April snow.
Halfway up the stairs, I disturbed a doe hiding in the thicket. She sprinted off, white tail up, further into the brush.
I remembered that verse without any trouble.
"As a deer longs for flowing streams, so my soul longs for You, O Lord."
(image via Wikimedia Commons)