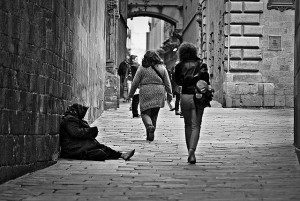 I need help from all of my generous friends on this one.
As most of my veteran readers know, my friends run a house called The Friendship Room in downtown Steubenville. The Friendship Room keeps its doors open 24 hours whenever possible, to help Steubenville's poorest. They serve as a warming center in the winter and a place to come in to the air conditioning in the summer. They shelter the homeless, drug addicts and prostitutes; they hand out seasonal clothes; they serve three meals a day; they pass out bottled water and popsicles to prevent heat exhaustion in the summer. They have a little free library and even put on Movie Night now and then with a projector and a bed sheet in the yard. The Friendship Room is also just about the only place downtown where you can get fresh vegetables and fruit since the downtown grocery store closed. And that's just their main building– they run two other houses. One is a shelter for marginalized women and one is an interim house for escaped trafficking victims until they can get placed in long term care.
But all of that might change.
The Friendship Room runs entirely on donations and gets no government funding. And for whatever reason, their donations are way down lately.
I was just told that they don't have enough money to get through the rest of the month. They're completely tapped.
It takes The Friendship Room six thousand dollars to run all three of their houses for a month, and they're down to nothing at the moment.
Lord only knows what will happen to the poor downtown if something doesn't change that quickly.
I want to beg my readers who have come to love the Friendship Room as I have: please consider giving them some funding. Give as often as you can, if you can give regularly. Or give just once if that's all you can afford. And whatever happens, keep them in your prayers.
The paypal address for The Friendship Room is Friendshiproomsteuben@gmail.com.
They also have a donate button on their Facebook page here.
Or, if you'd prefer, you can mail them a check made out to the Friendship Room and mail it to The Friendship Room, PO Box 53, Steubenville, OH, 43952.
Thank you in advance for caring for so many suffering people.