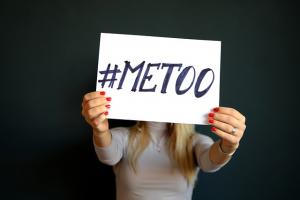 I have a favor to ask my readers.
My friend Donna Provencher is suffering a terrible injustice right now, and she's already been through enough. Donna is a graduate of Christendom College and a freelance writer; she's currently pregnant with her second child. In addition to being a wonderful mother and holding down three jobs, she is also the Director of Communications for Dinah's Voice, a non-profit organization that supports sexual assault victims at Catholic colleges. She herself is a survivor of sexual assault and has been a tireless voice defending the victims of sexual violence who have recently come forward.
Perhaps you haven't had the opportunity to notice this, but the alleged victims of sexual assault at Catholic colleges and those who speak for them have received a huge backlash. Many supporters of the institutions in question are afraid of any bad publicity and are quick to try to discredit them in any way possible. I have personally been shocked at the horrific things that are being said about survivors of sexual violence by people I'd thought were a lot better than that– as if the survivors were speaking out just to destroy the institution, instead of to share their story and keep other young women and men safe. As if any institution could be more important than a child of God in danger.
And when I see people attacking the victims, I always see Donna right there in the fray, speaking out for them in her passionate, witty way. I thought she was absolutely fearless.
Lately, though, she's pretty afraid.
Donna has been served with a civil lawsuit that seems tailor-made to ruin her. She's being sued for "defamation" by a Christendom College alumnus whom I assume calls himself pro-life but apparently has no problem using the courts to attack a pregnant woman just to shut her up and make her suffer. Maybe that's not his motive, but that's certainly what it looks like from this end. If she loses this suit, she will be forced to pay him more money than she makes in a year. And, if she loses this suit, it's going to scare other victims and advocates into silence.
Donna intends to fight this. She's got a lawyer, but that lawyer needs to be paid and lawyers aren't cheap.
That's where you come in.
Donna has a crowdfund going on CrowdJustice, to pay her lawyer's retainer. She needs to raise thousands of dollars as quickly as possible. Please, if you're able, help my friend afford her legal counsel. Give what you can. Share this far and wide. Keep her and all who speak out for victims of violence in your prayers in these trying times.
No one should be punished for speaking out like this.
(image via Pixabay)