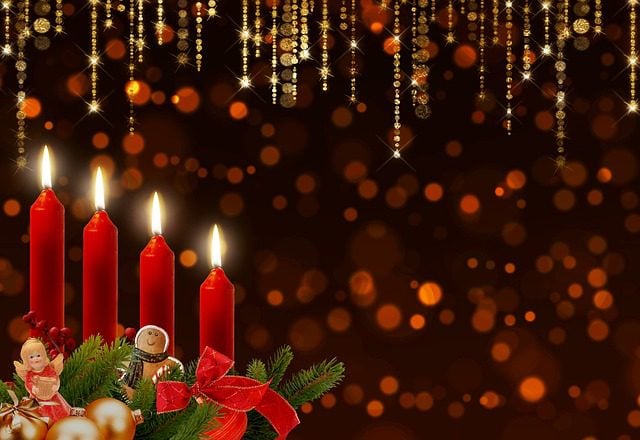 The glorious season of advent is almost here! What are you going to do to prepare your hearts for Christmas?
The absolute best advice I've heard so far has come from a couple of comments on a thread on the Unvirtuous Abbey facebook page. Instead of being That Christian who gets offended when shop clerks don't say "Merry Christmas," even though it's not the Christmas season for us until actual Christmas, it was suggested that we ought to all celebrate the true spirit of Advent by greeting one another with "Who told YOU to flee the coming wrath?" and calling each other broods of vipers. I approve. I am so going to do this.
In addition, I think we should all dedicate ourselves to prayer and almsgiving so we might better receive Christ when He comes. And I'd like to invite you to join me in prayer. I have already begun re-sharing my fourteen Seven Sorrows and Seven Joys meditations on the Steel Magnificat Facebook page, and I am going to be posting line-by-line meditations on the Our Father every several days until Christmas as well; I've already started with this one.
For almsgiving, here's something I think many of us can do. You're going to go shopping between now and Christmas. No matter how well you plan ahead, you haven't finished your Christmas shopping yet.None of us has. You are at minimum going to buy groceries. Every time you go to the store between now and Christmas, to buy gifts or food or to get yourself a treat, pray that you will be attentive to the needs of those with less than you are instead of just your own and your friends'. Make the trip a bit of a meditation instead of just a rush to get what you need. While you're praying and shopping, look around for an item or two to fill a care package for a homeless person being served by The Friendship Room in downtown Steubenville. Put the gifts by your Advent wreath or in a decorated box under your Christmas tree. When you go to mail your last-minute packages, which you know is going to happen no matter how organized you are, put all the gifts in a backpack or a fanny pack or something like that, gift wrap the whole thing nicely, put a tag on it saying it's for a homeless guest, and mail it to Center of Hope/Friendship Room, PO Box 53, Steubenville, Oh, 43952. Molly and Bill will pass out the gifts to their guests.
The most needed items right now are flashlights, hand wipes, razors and shaving cream, trial-size lotion and shampoo, gloves (men's gloves are most desperately needed right now), tide pods, little emergency folding blankets from the camping section, energy bars, Advil and rain slickers. You can pack other gifts in there too, but nothing that contains alcohol (check the labels on hand sanitizer and mouthwash) and nothing with a very strong scent because it will ruin the taste of any food you pack. Don't pack hard-to-chew foods because a lot of homeless people have problems with their teeth. Don't pack used or dirty items or things of a quality you wouldn't use for yourself. Remember, this is a Christmas present. Pretend someone you love very much is going to have to spend a lot of time outside in the winter and you're packing it for their survival and comfort. Because, in the end, this gift is for Jesus, and I know that you want to give Him the very best you can.
Thank you all in advance for joining Steel Magnificat in this Advent journey…. you brood of vipers. Who told YOU to flee the coming wrath?
(image via Pixabay)