"It is with great sadness that we announce the passing of our father, following a brief battle with cancer. Albert was a loving husband, father, brother as well as a friend to many. For more than five decades, Albert created groundbreaking films, inspired filmmakers and touched all those with his humanity, presence and his belief in the power of love. He was also a teacher, mentor and a source of inspiration for countless filmmakers, artists and everyday people." — MayslesFilms.com
When I first starting working on this week's selection, I had no intention of recommending a documentary for three weeks in a row. But all that changed with the passing of Albert Maysles last Thursday. The man was a legend; an innovator; a poet. And just in case there are folks out there who are not yet familiar with his work, I'm going to allow the documentary trifecta. Just this once.
Picking just one, though, was tricky. My first Maysles was Soldiers of Music, a made-for-TV account of "cellist and conductor Mstislav Rostropovich returning to the Soviet Union after 16 years in exile." It's a wonderful story and film (especially if you're a classical music enthusiast), but it's not available on any streaming platform (as far as I can tell). Then I toyed with the idea of suggesting Salesman (found on HULU PLUS) or Gimme Shelter (also, HULU PLUS), because both are such great examples of his style and both are among his more famous works.
But when push came to shove, I simply had to go with the work I consider his masterpiece: Grey Gardens, which is currently streaming on HULU PLUS. And AMAZON INSTANT($)
. And is pretty much impossible to describe, except to say that it's the most perfect example of "Truth Outstranging Fiction" I've ever seen.
Mother and daughter Big and Little Edie Beale, high-society dropouts and reclusive cousins of Jackie O., thrive together amid the decay and disorder of their ramshackle East Hampton mansion.
Over at
The Criterion Collection
 (which acknowledged the film's greatness with one of their 
typically gorgeous releases
), Hilton Als captures much of what made Maysles (and his brother) great in this conclusion to his essay on the film, "
Grey Gardens: Staunch Characters
:"
 The Maysleses' deeply felt approach to these extraordinary women makes most other documentaries by their peers seem foolish, an embarrassment disguised as the truth. As embarrassing as asking Miss Beale impertinent questions on the telephone for journalism's sake. What was there for her to say? The Maysleses had provided her and her mother with a platform where they spoke and sang and shouted and saw so memorably and intimately, so long ago.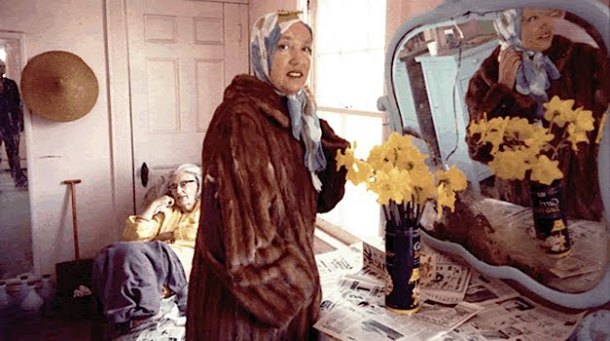 For those who are not PLUSers, Maysles' follow-up film, The Beales of Grey Gardens, is available from plain ol' HULU (meaning free but with commercials). Described as "a love letter to the fans of the original film and to the two women at its heart," it's "drawn entirely from never-before-seen material from the Maysles archive."
For those who are on the lookout for as-yet-unmentioned Maysles, his 30-for-30 film, Muhammad and Larry is streaming on NETFLIX. And The Gates, his account of "the evolution of Christo and Jeanne-Claude's installation from concept to installation, ultimately overcoming public disapproval and transforming Central Park into a visual symphony of color, light, joy and beauty," is on both NETFLIX and AMAZON PRIME
.
Lastly, for some weird reason, there is a feature film version with Drew Barrymore and Jessica Lange. I have never seen it. I think I'm probably ideologically (or maybe just emotionally) opposed to its very existence. But YMMV, right? And it's on AMAZON PRIME
, as well.
Attribution(s): All images and stills are the property of The Criterion Collection and other respective production studios and distributors, and are intended for editorial use only; Images of Mr. Maysles courtesy of Getty Images, which allows the use of certain images "as long as the photo is not used for commercial purposes (meaning in an advertisement or in any way intended to sell a product, raise money, or promote or endorse something)."