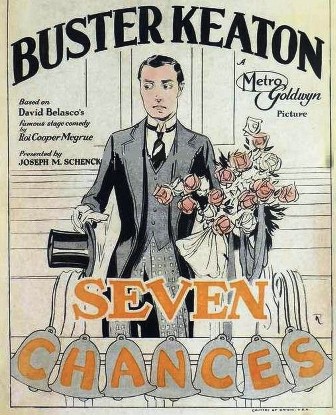 I'm kind-of on vacation right now. As much as one can be on vacation with 8 kids, anyway. So this one's a real softball. One of my favorite films from film school. And a big part of why Buster Keaton's my favorite silent comic. (It's the first half more than the second half, really. The chase stuff in the latter part of the film really shows off his amazing physical skills and timing. But it's the dead-pan set-up that I really love. …at least that's what I tell myself until I get to watching the second half again, and then I realize that it's actually that I love everything. Don't make me pick a side.)
Oh, and I'm talking 'bout Seven Chances, which is on NETFLIX INSTANT. And on AMAZON PRIME. And on HULU (with commercials, 'tis true. But also free). Go thou to your provider of choice and be mightily amused.
A young heir will inherit his fortune only if he marries by his 27th birthday, and the news brings out hundreds of potential brides eager to land him.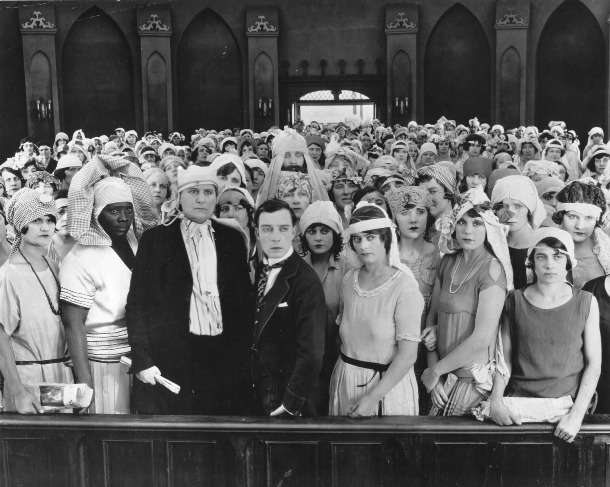 I've even written about it before:
Clocking in at a svelte fifty-six minutes, Seven Chances features Keaton's legendary visage (stony, yet strangely expressive), his extraordinary physicality (including jaw-dropping stunts performed as always by the star himself), and his unparalleled sense of comedic timing. (The sequence from which the film takes its name, where Keaton proposes to and is roundly rejected by seven girls in his country club, is particularly wonderful.)
What more do you want from me? Go watch it, already!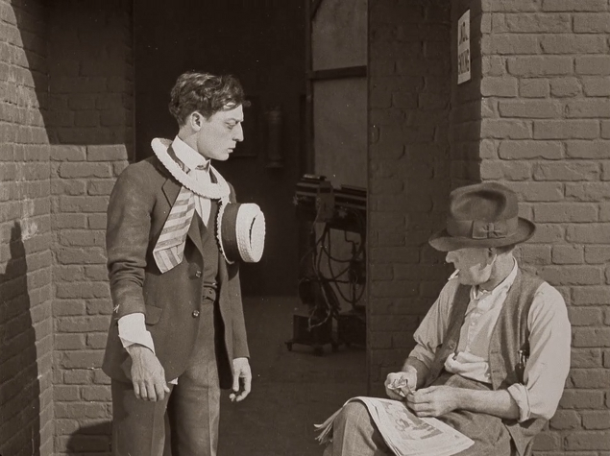 Attribution(s): All posters, publicity images, and stills are the property of Kino Lorber and other respective production studios and distributors, and are intended for editorial use only.