Rev. Terri Stewart, whose work as a youth chaplain to young adults in prison I wrote about here, also runs an online spiritual community called Beguine Again. It's an interesting concept: instead of asking folks to show up in a building each week, Terri and other contributors ask members to check in online. They post spiritual reflections each day of the week and are currently running a yearlong exploration of spiritual practices.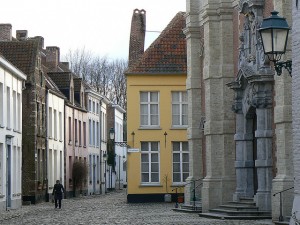 "Beguine" refers to a group of women who formed semi-monastic communities in the 13th century. They took vows of poverty and worked together to minister to people in the towns where they lived (mostly in the Netherlands). These women lived and worked together, but they weren't nuns–there was no vow of chastity and no hierarchy. Beguinages, or the communal living places, were independent of one another.
Another example of women creating a fascinating branch of mainstream Christianity. I'd love to explore a new series of women or groups of women who do not fit the stereotype of "church lady" or old-fashioned nun. If you know of any interesting women, historical or current, please do share in the comments!