Don't you love it when you happen to pick up a book that lives with you for a few days, and almost like a fascinating stranger, invites you into a whole new world?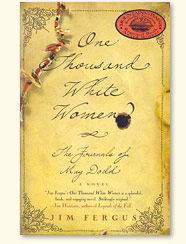 I just finished reading one of those books that I loved so much I slowed down my pace toward the end wishing I would never have to turn the final page.  Please . . . take a look at Jim Fergus' novel, 1000 White Women.
I'm not an avid reader of Westerns, but I loved Kevin Costner's epic, Dances With Wolves.  Think of this book kind of like that movie. The book is a novel, through and through, but I tell you, you won't believe you're not reading the actual journals of a white woman living among the Cheyenne. So many themes and ideas run through this book, not the least of which is a stark portrayal of the US Government's treatment of the American Indian, which ranks right up there as one of the most heinous tragedies of our country's history.
In and among the pain of the story, though, there runs a little thread of faith, a little piece of hope to hang onto.  The main character, May Dodd, is Agnostic, if anything, largely due to her painful experiences of life. Christian missionaries in the West do nothing but add to her conviction that religion is a farce used by people with power to hoist themselves up and over everybody else.
Curiously, as she lives among the Cheyenne she begins to find a new way of relating to God, largely through the beauty of nature and the richness of community. Toward the end of the story an Anglican missionary, Father Anthony, comes to live with her tribe and manages to stitch together for May some kind of presence of the divine. Her journal reads: "On Anthony's behalf I will say that he spreads the Gospel of Jesus very gently among the People, with none of Reverend Hare's fire and brimstone or threats of damnation, and none of Narcissa White's evangelical zeal. Rather he visits from lodge to lodge in such a spirit of honesty, humility and generosity that the people hardly know they are being preached to. He is, I think, our best hope yet for the salvation of their souls . . . if salvation they require." P. 238
I think it wouldn't be so bad to be known as someone who has spent a life "spread[ing] the Gospel of Jesus very gently among the people . . .".