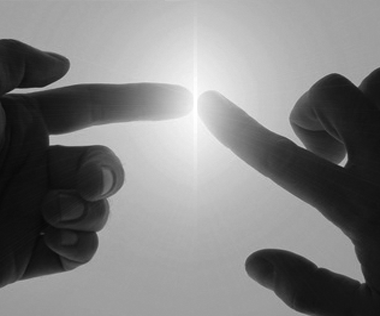 I do concede that I've been writing on the subject of grief rather frequently lately, but here I go again. 
Maybe I think about grief a lot more in general than normal people do because my job often takes me into situations where grief is fresh and raw, but I started thinking about it again this week because of an intersection of my work and my own life. 
My aunt died very suddenly and tragically a few weeks ago, and I've just returned from a trip to her funeral. And, in the process of digging myself out from under the many tasks awaiting me upon my return from that unexpected trip, I had to write a newsletter article about Lent.  So you see, again, the intersections that lead me to these strange writing adventures.
My sister and I were talking today about all the many different things we grieved during and in the wake of my Aunt's funeral, and we came to the conclusion that grief touches grief.  The grief of human living, while certainly distinct in each expression, can sometimes run together into one big, painful mass that threatens to become the landscape of life.  Grief at every turn, pain every direction you look.  My sister and I knew this because we spent the weekend together grieving the death of my Aunt…and so much more in our own individual lives.  Tears ran freely all weekend long and we realized again what we already know: human life can be really, painfully hard in so many ways.
On my desk when I returned was the challenge of talking with our church about the upcoming season of Lent.  Our theme for Lent this year is, "A Time to Weep," and I found myself trying to explain why we have planned to create and display seven Stations of the Cross in our sanctuary during Lent.  The Stations of the Cross are different icons or images that usually tell the story of Jesus' suffering and death by each representing a different part of the story, so I was trying to find the words to express how focusing on this terrible story of Jesus' life might guide our worship and reflection this Lent. 
(How to get people to come to church for such a cheery worship theme is another deep and critical question.)
I finally realized why I think it is that walking through Jesus' grief might deepen our own journeys of faith: I really do think that grief touches grief.  In the season of Lent we're invited to take the time to grieve so many things: our own sin, the pain of the world, the suffering we see all around us, the grief that threads in and out of our own lives. 
Overwhelming, when you put it all together. 
Perhaps if we follow the examples of so many Christ followers who have lived before us and intentionally, prayerfully consider the suffering and death of Christ, we might recognize our own pain, the pain that cripples us and keeps us from full health and life. 
And perhaps in a deeper knowing of the God who has lived deep human grief and pain, we may find some healing for our own.
Grief touches grief, it's true.  And when it does, hands clasp…and arms embrace…and hearts unite…because God knows what it is like to be us.
Thanks, thanks be to God.
Amen.