We Are the Church: Blessing Our Commitments
Did you ever notice how often Jesus and weddings go together in the Gospels? Jesus was forever talking about weddings and the Kingdom of God, comparing a wedding celebration to life in relationship with the Divine. Weddings were among his favorite sermon illustrations!
We preacher types also love to use the metaphor of weddings in our preaching, too. Everybody understands what a wedding is like; many of us have lived through our own: from the choosing of the flowers to the elaborate seating charts to the crazy relatives. The parallels we could draw with the Kingdom of God…well, the possibilities are endless. But, and you may already have noticed this yourself, even though Jesus and weddings go together often in the Gospel, it has become customary in our society to separate wedding services from the regular, Sunday morning worship of the church.
In fact, having a wedding in worship is so unusual there may be some of us here today who have never participated in such a wedding. Well, all of that's going to end today, because this morning as part of our worship we will witness two members of our community exchange the vows of marriage…right in the middle of everything.
As we prepare to witness Djuna and Jeff's wedding vows in a few moments, we have a very familiar text guiding our worship this morning: Jesus' famous first miracle, the wedding at Cana where he turned water into wine. The questions that surround this passage are endless, including but not limited to: Why would Jesus choose this miracle as his first ever public miracle? Was it really wine Jesus manufactured…like, real, alcoholic wine? Whose wedding was this, anyway? Even with all the questions surrounding this miracle, it's worth our time to take a little bit of a closer look.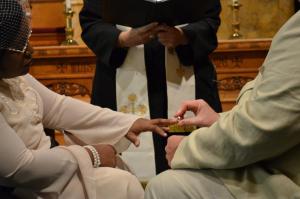 Jesus and his disciples, along with Jesus' mother had been invited to a wedding in Cana. This area of town was a rough area largely populated by Gentiles, but there must have been a Jewish community there because it was in that community that this wedding took place. Weddings back then were huge community affairs, usually lasting seven full days and including all kinds of ceremony and celebration.
In this instance there was an urgent social faux pas that threatened to ruin the wedding: the bride and groom had run out of wine. As you might imagine, it was a great burden on a family's resources to throw a big party for seven whole days, so it was the custom back then that friends would supply wine ahead of time, just to help make sure there was enough. If you ran out of wine it was an indication that you didn't have enough friends. Embarrassing.
But that wasn't Jesus' problem, as he pointed out when his mother came to him asking for his help. Jesus was an invited guest; he was not responsible for dealing with the crisis of the wine. However, seeing the situation, Jesus instructed the stewards attending to the wedding to fill six stone water jars with water, which he turned into wine…wine so fine that the head steward was confused about why they'd saved the best for last. In that moment Jesus stepped away from being a sideline observer and right into the thick of everything that was going on.
And perhaps it is right there, right at that point, that we find the lesson for us today. Because nobody ever gets married in a vacuum. In fact, no commitment we ever make is made all by ourselves. We need each other to remind one another that living in relationship, living in community, is worth the risk and the considerable cost. Why? Because the God we worship is a God of relationship, and our relationships with each other reflect to the world around us all the possibility of relationship with God.
In an article in the New York Times this week, columnist Maggie Shipstead wrote: "Binding yourself to another person with the intention of fidelity and the hope of lasting happiness is a daredevil leap of faith…". When I read this I thought, yes, Maggie, you are absolutely correct. Making promises like we make when we marry is serious business. And so, we must do it in the company of a community of people who will not stand on the sidelines of our lives, but who will instead jump right in and be there in all the trouble and pain and hope and possibility that life together holds.
So, really, who better to help us do this than our church family? On its best days, the church is a community in which all of us present have made a commitment to each other…a big commitment to invest and support and live in relationship in the context of a community where we live out the mandate of the Gospel in this world.
And, communities like this are few and far between.
Our church family should model for us the loving commitment of God, who engages over and over again in relationship with us, despite our failures, for the purpose of redeeming our lives and redeeming the world. When we marry, just like when we join the church, we make a public commitment, supported by those around us, to reflect God's best intentions for our lives and for our world. We publicly say: we intend to live in life-giving relationship with each other, and as we do, we will point others toward God.
A friend recently told me about a visit he made to Paris a few months ago. Following the advice of a guidebook specializing in out-of-the-way bed and breakfasts, he ended up staying in a flat overlooking Saint Paul's cathedral, very near the river. From the little balcony in his flat, my friend could sit and practically stare straight at one of the side walls of the massive cathedral, a Baroque style church built in 1642 and run since then by Jesuit monks.
My friend told me that he had been under the impression that churches in Europe were dead…dusty old mausoleums kept standing as historical monuments. But when he awoke every morning to the peals of church bells and took his coffee out to the balcony, he could see that that was not the case at St. Paul's. People streamed in and out of the cathedral doors on every side of the building, all day long. There was a priest was conducting mass, there were children playing in the aisles while their parents lit candles and people sitting in silence and tourists taking pictures and the organ singing in the high stone arches and neighbors crossing the square through the church with their grocery bags full. It didn't look like a dead mausoleum to my friend…in fact, it looked alive in fresh and unique ways, a place where the sacred and the mundane not only collided but knit themselves together to create something beautiful. The church.
The best day of cathedral watching came on Friday, when coffee in hand, my friend watched a bride and groom process in through the main doors of the cathedral, all the way down to the front rail, with their attendants following them. Supportive family members were there to watch them take their vows during the mass, but you know who else was there? You guessed it: a priest saying the wedding mass, parents pausing at the side altars, picking up their children and holding them high enough so they could catch a glimpse…people raising their eyes from their private prayers to pay attention to what was going on…tourists putting down their cameras for a few moments as they witnessed the ceremony…the organ quieting while the voice of the priest rose and fell…and neighbors crossing the square through the church stopping, shifting their grocery bags to the other hip and repeating the congregational responses in the mass. A whole community of people—the church—there—supporting the couple who were taking their vows.
That day at St. Paul's was a living testimony to the truth that no commitment we make is ever truly private, that we need each other to be witnesses as we declare our intention, and that loving committed relationships are nurtured and fed by the blessing of community.
This is the holy honor of being the church together. We surround each other with our presence. We comfort each other in times of grief. We recognize and affirm faith in one another. We nurture gifts and possibilities in each other. And we gather together to put one more stitch in the beautiful tapestry that is the church when we pause for a few holy moments from the crazy pace of life to worship together as we witness and bless a deep and holy commitment.
We are the church. And as the church at worship we surround Djuna and Jeff and stand to sing them to the altar where they will make their vows to one another. Shall we stand and sing?