Having trouble finding the right words? Here's last Sunday's prayer prayed by Riverside's Minister of Justice, Advocacy, and Change, Rev. Bertram Johnson.
"God of our weary years,
God of our silent tears,
Thou who has brought us thus far on the way;
Thou who has by Thy might Led us into the light,
Keep us forever in Thy path we pray."[1]
Lord, no one has ever said that living into your teachings would be easy. To walk in your path, to be perfect as you are perfect, O God, demands sacrifice of our wills, our wants, our fears and pride.
Guide our feet in the paths of what is right, and loving and just. Grant us faith and courage and compassion as we endeavor to serve and heal your world. By your Holy Spirit, empower us to live your justice so boldly that all are renewed, transformed, redeemed.
In this month in which we honor the history and culture of people of African descent, on the weekend in which we recognize the contributions of our Presidents and leaders, give us vision to see that the success of our nation is found not in wealth and power for the few, but in the liberation of those who are oppressed, impoverished, and forgotten.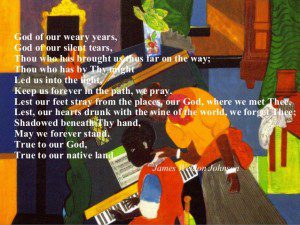 God be with us as pray and work for a day when our legal system judges on the side of equity, not on the bias of privilege. May we come to see a day when our prisons foster restoration, and not perpetuate further injustices; a time when all our schools are funded, as the needs of our students and teachers demand.
God, whose stands with the displaced, foreigner, and alien, we pray for those who are members of your family, yet we regard as strangers. Especially we pray for immigrants among us who live each day under threat of indignities, discrimination, and deportation. We commend to you all who are removed from loved ones and liberty. Use us and this church to break down any walls that dare separate them from us and your holy kin-dom.
And when our hearts are hardened, grace us with humility to pray for our enemies. We pray for those who show no respect for the poor, the outcast, or those who have hurt us.
God who gave up his life that we would know what love is, remind us of the ways of faith by uniting us with your disciples, whom you taught to pray, Our Father, who art in heaven…
[1] Johnson, James Weldon. "Lift Every Voice and Sing"