It was Sunday morning, and some of the group went to church.  I did not.  Christianity in Jerusalem is complicated; it's not easy to find the nearest Baptist church and just show up.  So while our group's Episcopal priest (Rev. Winnie Varghese) led a small group to St. George's Anglican Church for morning services, the remainder of the group had almost two hours with Dr. Rachel Korazim, a noted expert in the field of Jewish education.
As it turns out, that session was a bit like church for me.
We began the morning with prayers and some meditation, reading for Epiphany the assigned passage from the first chapter of Luke's gospel: "In the tender compassion of our God the dawn from on high shall break upon us, to shine on those who dwell in darkness and the shadow of death, and to guide our feet into the way of peace…".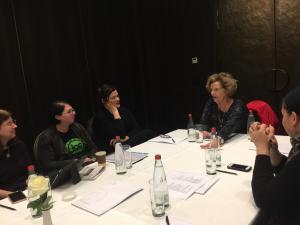 We then welcomed Dr. Korazim, a brilliant teacher who made me want to immediately pack up everything, move to Israel, and sit in her classroom for the rest of my life.  She told us that women have a nuanced and largely unheard narrative when they talk about life in Israel through their poetry.  Instead of a nationalistic, triumphalist narrative, the voices of Israeli women poets often express the pain of wandering, of being separated, of longing for home even in a promised land.
Beginning with poets like Lea Goldberg (who died in 1970) and meandering through the story of Israel's history all the way to a modern-day spoken word poem of Adi Keisar, we understood on a deeply emotional level some of the longing that a nation of refugees brings to its formed identity.
Read for yourself:
Trees, by Lea Goldberg
Here I will not hear the voice of the cuckoo.
Here the tree will not wear a cape of snow.
But it is here in the shade of these pines
my whole childhood reawakens.
The chime of the needles: Once upon a time
I called the snow-space homeland,
and the green ice at the river's edge –
was the poem's grammar in a foreign place.
Perhaps only migrating birds know –
suspended between earth and sky –
the heartache of two homelands.
With you I was transplanted twice,
with you, pine trees, I grew –
roots in two disparate landscapes.
Black on Black, by Adi Keisar
My grandma loved me with a heavy accent
And spoke to me Yemenite talking,
Which I had never understood
And as a child
I remember
How afraid I had been to stay with her alone
Afraid of not understanding the tongue in her mouth
Which continued playing its music to me, smiling,
And I did not understand
one single word she said.
The sounds rang far, far away
even when she spoke to me closely.
And, I remember,
Once
She bought me a pineapple yogurt
And after I perforated the thin aluminum lid
with my thumb
and drank it all,
I wanted to say thank you
But did not know
In what language you should.
So I went out to the big garden
Picked a flower
and handed it to her
Embarrassed
I remember
How much awkwardness stood between us
Of one blood
And two silent languages
She washed out the yogurt container
Wordlessly
Filled it with water
And placed the flower I had given her in it.
I have never understood one word she said.
My grandmother
But I understood her hands
I understood her flesh
Even if even if she never
Truly understood
The words I said
She only loved my little body
Her daughter's daughter
And sometimes the heart is asking
For weird things
Like learning Yemenite
And going back to her grave
Pressing your lips against the soil
And yelling inside
Everything that little girl had to say
And mainly to warn her
Of the flower I had given her:
A flower full of ants.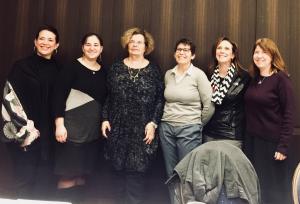 I think this was one of my favorite parts of the entire trip.