On Friday morning we took a train ride in the most northern neighborhood in Jerusalem, Pisgat Ze'ev, which really is a Jewish settlement built after 1967. It is the largest neighborhood in Israel with over 60.000 people living there.
The very next stop on the light rail was the Palestinian neighborhood of Shoafat, where 16-year-old Muhammad Abukader was kidnapped and burned alive as revenge for the tragic and brutal killing of 3 Israeli boys in the West Bank.  Because of the kidnapping and murder of Muhammed Abukader, significant controls were put in place to try to insure no future retaliation—that means people in that Palestinian neighborhood cannot buy rail tickets easily, and the rail cars stop very briefly there before going on.
The sky is dark gray and the atmosphere tense as we exit the doors of the light rail car.  The Jerusalem Light Rail is the only thing that connects neighborhoods of Palestinians and Israelis in East Jerusalem, and it feels like a thread of hope winding through so many different populations…especially when you look up and see the art of children, Jewish and Palestinian children, on the ceiling of the rail car.  I wondered if there ever was a Palestinian who happened to talk to an Israeli as they waited for the train, and then they became friends?  No one I asked knew of any such thing.
We eventually arrived at Museum on the Seam, a building that has been bombed and shot, the reality of which remains on the façade.  Inside the museum is incredible art by Jewish and Palestinian artists.  When we arrived, we came in out of the cold and rain and were met with coffee, cookies, and a conversation with Orthodox activist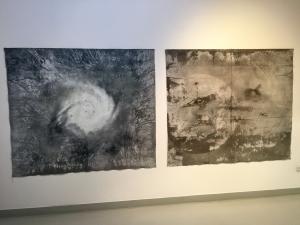 Tehila Friedman-Nachalon and Rana Fahoum, a Palestinian woman and Chief Inspector of the Ministry of Education in charge of East Jerusalem elementary schools.  Though Tehila and Rana differ in political perspective significantly, they have become friends and partners in the work of turning Jerusalem into a place of peace and flourishing for all who live there.
"I see Jerusalem as a heart—the place that brings people together.  We live in a miracle—my daily life is the dream of 2000 years," said Tehila. Many young families are leaving the city of Jerusalem, she explained, because of the cost of housing, because of quality of life, and because almost everything is closed on Shabbat to follow Jewish religious laws.To try to discourage people from leaving the city, Tehila, an Orthodox Jew, has planned big community picnics on Shabbat—which she does not attend because she is observing Shabbat with her family—but that bring the community together in beautiful way.  She believes that coming together is not a luxury; it is a matter of survival.
After another 16-year-old, Shira Banki, was stabbed to death at a Pride parade in Jerusalem, Tehila took her children to a public demonstration to sit shiva.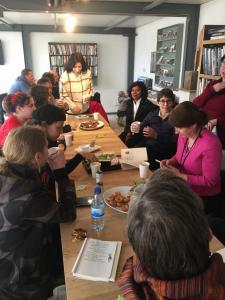 When her 13-year-old asked: "Isn't is bad for two men to be together?"  She answered: "Yes, this is what we learn in the Torah.  But…can you imagine someone being assassinated for violating Shabbat and we just stay at home, saying nothing?"
"We need to dream the future different," she says.
Rana tells us that Jerusalem is a very hard city to live in.  75% of Palestinian children in Jerusalem live under the poverty line (sound familiar?).  The city is full of extremists from every possible perspective.  "People in Jerusalem feel that the future of their religion lies on their shoulders," she says.
Rana knows her work is important, because "education forms identity," and this city has a lot of work to do around defining its identity.  Since 36% of males in East Jerusalem do not finish high school, this is critically important work to do. "There are many points where we meet and there are many things we can do to make life better for people.  I believe that your ideology should not overcome your intelligence.  There are people who cherish life and people who cherish identity.  We should all work to be somewhere in the middle."
Both Tehila and Rana feel that they are not so unique; they both insist that there are many people in Jerusalem who feel the same way they do.
This day was a day of pain and hope.  We witnessed the work of two women on different ends of spectrum when it comes to ideology, both of whom believe in the future of their city and working to bring the community together.  Tehila and Rana were just a taste of a larger conflict and conversation, populated with many, many heroes who will not let the promise of their land be violated by people who choose violence and hatred in the name of religion.
Inspiring.