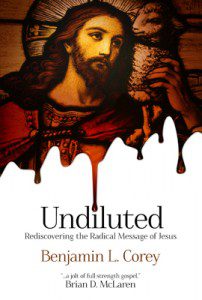 This Thursday at 12:00 Eastern, we have the good pleasure of talking with Benjamin Corey about his book Undiluted: Rediscovering the Radical Message of Jesus. Now, by "we," I mean exactly that. You and I will be able to ask Benjamin questions and make comments about his book on a live chat! All you have to do is register (for free!) by clicking here.
Why do we at Teaching Nonviolent Atonement want to talk with Benjamin?* Well, like Benjamin, we believe that there is a huge problem within American Christianity. And do you know who's causing it? I'll tell you who! It's them! They are so arrogant! They think they have all the answers. But you know what? They are giving good Christians like us a bad name! Ugh. If only they would just stop being so willfully ignorant.
It's a frequent complaint within American Christianity. What makes the complaint so tragic is that Christians of all stripes complain against one another. It doesn't matter if we are liberal or conservative, progressive and fundamentalist, when we point the finger of accusation against one another, we end up sounding exactly the same. And in the process, we all dilute the radical message of Jesus.
If you are looking for a Christianity that goes beyond the baggage of an "us versus them" mentality, Undiluted is one of the most important books you will read.
Undiluted will challenge you in immensely important ways. As American culture, and American Christianity with it, falls deeper into the mire of blame and accusation, Benjamin points us to Jesus, who is the solution to our problems. Many feel that American Christianity has watered down Jesus, but the problem is that we blame them. Benjamin says,
Herein the problem lies. Yes, there's nothing good about a watered down, soggy, bland Jesus—but we've got to stop pointing to "the others" as the ones responsible for it, and start turning those fingers inward. Unfortunately, that's not a comfortable process. It's usually much easier to focus on them, not us—you and not me. Jesus, however, calls us to look here before we go searching there.
This anti-scapegoating message is essential to the teachings of Jesus and to the teachings of the Hebrew prophets. As long as we believe Jesus is on our side and against our opponents, we will continue to miss the radical message of Jesus that calls us to take the beam out of our own eye before taking the speck out of our neighbor's.
Undiluted is part autobiography and pure Gospel. It provides a radical message of healing for our fractured times. Each chapter challenges us to live a more undiluted faith as we follow Jesus, who, according to Benjamin, "offers us a life dedicated to making the world a little less broken and a little more reconciled, right here, right now."
*There are so many more reasons to talk with Benjamin! During our conversation, we will talk about other topics in Undiluted, too, including community, inclusion, justice, love, forgiveness, loyalty, story, and identity. We hope you can join us for this important conversation this Thursday at 12:00 Eastern. Register by clicking here!