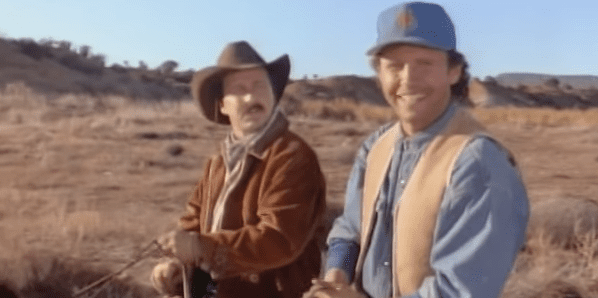 This article is part of my blog series inspired by Jesus the Forgiving Victim: Listening for the Unheard Voice by James Alison.*
Do you remember this scene from the movie City Slickers? Unhappy city slicker, Mitch, has gone in search of what's missing in his life. Problem is, he knows he's unhappy but he has no idea why. On a real life cattle drive he encounters Curly, a real life cowboy who knows just what he wants and how to get it. Here's the advice he gives to Mitch:
Curly: Do you know what the secret of life is? [holds up one finger] This.
Mitch: Your finger?
Curly: One thing. Just one thing. You stick to that and the rest don't mean shit.
Mitch: But, what is the "one thing?"
Curly: [smiles] That's what you have to find out.
Curly believes that the "one thing" is different for all of us, but why is finding it such a struggle? Mitch appears to have it all, a good job, loving wife, happy family, loyal friends. And yet he's unhappy. What could possibly be missing from his life? The movie is a hilarious journey in which Mitch discovers that he's more brave and daring then he knew, and his self-esteem soars.
Weirdly, the vehicle for his renewed happiness is the love of a calf. Mitch bonds with the calf when he overcomes his fear and disgust to help birth the calf on the cattle drive. He cares for the calf as if it is his own child. Soon it is licking Mitch's face as if Mitch is his mother. The miracle of new life and the love of this baby calf breaks Mitch's heart wide open and when he returns home to his old life it's with an exuberance he hasn't felt in a long time.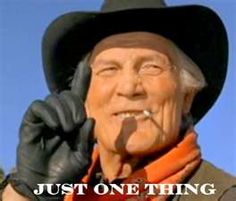 Is the love of a calf Mitch's one thing? If so, why would that be the key to happiness for Mitch? I think it's because the only access we have to loving ourselves is receiving the love of others. It's an odd truth about human beings that all our desires are learned from others. Which includes our desire for ourselves.
Yes, it's true! We cannot love ourselves until we are held in the loving regard of someone else. Poor Mitch had become unable to receive that loving gaze from his wife, friends and family. Perhaps he had started to take them all for granted. If so, and his faith in their love for him had begun to falter, his love for himself would not be far behind. Everything in his life had begun to feel drained of meaning. Life had become boring.
Birthing that calf was anything but boring! And not even Mitch could take the love of a newborn calf for granted! The calf's love came as a radical, unexpected, surprisingly uplifting gift! This may sound strange, but put God in the place of the calf in this story and you've got the whole thrust of James Alison's course! Really! James' hope for those who take the course is that we re-discover the radical, unexpected, surprisingly uplifting gift of being loved by God. For it can happen that we start to take God's love for granted, and when that happens our faith becomes routine and uninspiring. I mean, how many times have we heard that God loves us? So many times that it may have lost its power to enliven and renew our lives. In fact, James suggests that we begin to think about God's regard for us as "like" instead of "love" in order to bring some of the wonder back into our faith.
Since I already told you the end of the movie, I might as well commit a double no-no, and give you a quote from the end of the course. James concludes by saying that by coming into our midst the way he did, Jesus' purpose "was to try to prove to us that most difficult of truths: that in the midst of all the mess, the fear, the violence and hatred which abound in our world, we are
liked
irrepressibly, lyrically, chucklingly, light-heartedly, wastefully, as we are."
Believing that we are liked by God just as we are is the one thing often missing in our lives. When we feel unhappy and don't know why, when our faith begins to feel stale and our relationships disappoint us, maybe that's just the time to imagine receiving a big, wet, sloppy kiss on the face from God! It may be just what we need to begin to like ourselves again, just as we are. Because, like Mitch, the one thing that's missing from our lives may be the ability to see that nothing is missing at all.
---
*Years ago, just when I was about to give up on Christianity as irrelevant to my life, I stumbled across the work of James Alison. He helped me encounter a God of mercy who loved me more than I could imagine – what a gift! So when he asked for help to produce his course of introduction to Christianity, Jesus the Forgiving Victim: Listening for the Unheard Voice, I jumped at the chance. All proceeds from sales of the course go to support the website, translations, promotion, and James' living and travel expenses. James is an independent scholar and itinerant preacher and is very grateful for your support. James and I both pray that this blog series and the course itself will be a meaningful part of your journey toward a deeper faith and fuller life in Christ. You can learn more about the course and purchase it at our store. 
For other parts of this series see:
Jesus the Forgiving Victim: Huh?
Listening for the Unheard Voice
Authentically Boring: The Case for Praying by Rote
If Jesus is the Forgiving Victim, Then What Am I?
Trump, Biden, and the Search for Authenticity
Stay in the loop! Like Teaching Nonviolent Atonement on Facebook!