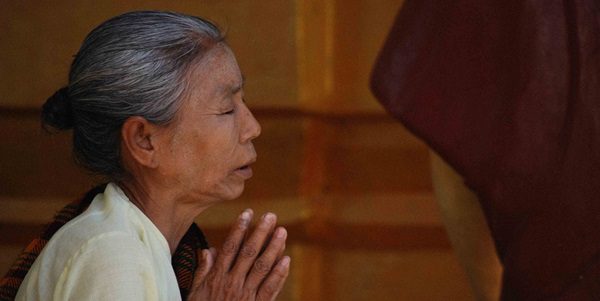 This is the second installment of my series on Faith and Families. These weekly videos are based on the lectionary passages for the upcoming Sunday and seek to find ways families can discuss passage, along with providing a family activity that relates to the message.
Does God listen to our prayers?
In the video and text below, I discuss Jesus's parable of the Persistent Widow, also called the Parable of the Unjust Judge. It's found in Luke 18:1-8.
The parable of the Persistent Widow, also called the Parable of the Unjust Judge, is notoriously difficult to understand. It begins by saying that Jesus told the parable to teach his disciples "to pray always and to not lose heart."
Apparently, his disciples were losing heart when they prayed. Have you ever prayed and felt God wasn't listening? When it comes to prayer, we all lose heart at times. The disciples did. Even Jesus did as he hung on the cross and shouted, "My God, my God, why have you forsaken me?"
The Widow and her Opponent
And so in his parable, Jesus props up a persistent widow as a model of faith. People frequently took advantage of widows in the ancient world. They were often seen as a financial burden for family members. In a hyper-patriarchal world, widows without faithful sons had no one to defend them.
That's what happened to the widow in Jesus' parable. Jesus said that the widow had "an opponent." We don't know anything about the opponent, but it's likely that her opponent stole whatever means she had to maintain her well-being. She sought help from the local judge, saying, "Grant me justice against my opponent."
The widow had to be persistent because the judge refused grant her justice because he had "no fear of God and no respect for anyone." But the widow persisted and eventually the judge relented, granting her justice against her opponent.
More than "Our Thoughts and Prayers Are with You"
People often think the God character in this parable is the unjust judge. But does a judge who has no fear or respect for God, along with no respect for people, sound like a God character? It doesn't sound like the God Jesus taught about. Jesus calls us to love God and love our neighbor. This judge, who does neither, doesn't seem to be a God like character. In fact, his actions seem anti-God.
And the actions in this parable, I think, are the point. When you pray, be like this widow. She doesn't just offer prayers to God. So often when unjust events occur, like a tragic shooting, we offer prayers of condolences. "Our thoughts and prayers are with the family." Thoughts and prayers are good, but thoughts, prayers, and action are even better.
Jesus doesn't explicitly tell us this, but the widow probably prayed to God. But she knew that thoughts and prayers weren't enough. She had to take action. Despite the fact that she was destitute, and that she had an opponent, a judge who refused to listen, and no one else to advocate for her, she decided that life was still worth living. She decided that she would still fight for her life. Thoughts and prayers weren't enough. She knew she needed to take action.
God is Not Like the Unjust Judge
This parable gets even more difficult as Jesus explains, "Listen to what the unjust judge says. And will not God grant justice to his chosen ones who cry to him day and night? Will he delay long in helping them? I tell you, he will quickly grant justice to them. And yet, when the Son of Man comes, will he find faith on earth?"
As always, Jesus is trying to change our understanding of God. He says that God is precisely not like the unjust judge. But our theology is mired in thinking that God is like an unjust judge who refuses to listen to our prayers. God is not the unjust judge; we humans are like the unjust judge. We are responsible for changing ourselves and the economic, racial, and political power systems that disadvantage those on the margins of culture.
It often takes faith to see that God is not like an unjust judge, but seeks justice and love for all, but especially for all people who are marginalized. God is especially for them.
Still, like the psalmist we often pray, "How long, O Lord? Will you forget me forever?" Jesus speaks of God's immediate justice, but justice is rarely immediate. But with the widow as our model, we won't just pray "How long, O Lord." We will work for justice now, with the faith that God is alongside us as we work for a better world.
With Children and Families
Although this is a difficult passage, with children we can emphasize the "need to pray always and not lose hope." We can ask our children, young as they are, if they have ever lost hope in prayer. Ask them what they pray for. And if they respond with something like "A new bicycle," please do not scold them. That is an appropriate prayer for a child. Encourage those kinds of prayers, and you can also encourage prayers for "world peace." During this time, children need to simply pray. And as theologian James Alison says, praying for bicycles without feeling shame can lead to praying for world peace without feeling shame.
You can also discuss in your family the idea of "justice." If that's too abstract, you can ask, "Where do you see bad things happening in your school or in the world?" You can then ask, "What are some things we can pray for and what might we be able to do to make the world a better place?"
To foster prayer, you can create a "prayer cup." After you make the cup, you write on long pieces of paper or jumbo craft sticks people that you want to keep in your prayers. Put the prayer cup with the paper or sticks on your table or desk. Every time you see it you will be reminded of Jesus teaching to "pray always and not lose hope."
In addition, you can talk about what you can do for the people in your prayer cup to encourage them, or even advocate for them. For example, you can call them, or visit them. You could advocate for someone who is being teased at school.
Conclusion
How we teach this parable to our children matters because it's easily misunderstood as Jesus teaching that God is like a giant slot machine. If you pull the lever by persistently praying, eventually God will deliver whatever you ask. That's not Jesus' point. The point is that in a world where unjust judges abound, don't lose heart. Don't lose faith that God is with us in our struggle for justice. As Martin Luther King Jr. said, "The arc of the universe bends toward justice." Prayer helps us strengthen our patience and persistence, something adults and children are developing. Like King and the persistent widow, let's continue to pray and work in our families, school, and broader world for God's love and justice.
---
Image: Pixaby.
Stay in the loop! Like Teaching Nonviolent Atonement on Facebook!
For more in this series:
1. Jeremiah: Planting Gardens and Dance Parties
2. The Persistent Widow – Is God Even Listening?