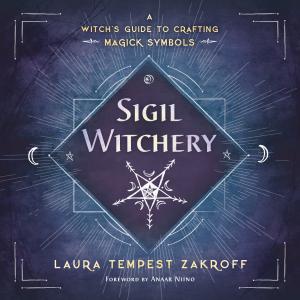 Today (January 8th) is the OFFICIAL release day for my second book SIGIL WITCHERY, published by Llewellyn Worldwide!* I'm really excited about this book because the intersection of art and Witchcraft is near and dear to my heart. My approach to sigils is not based in ceremonial or chaos magic, but is rather rooted in Witchcraft and how the brain relates to symbols and signs. It comes from nearly 40 years of visual arts training + over two decades of studying Witchcraft. For those of you who are especially right-brain thinkers and magick-workers, you may find the process to be very intuitive and empowering.
To celebrate the official release, I am doing a contest where you can win** a signed copy of my book or the opportunity to win a custom sigil by me. To enter, simply leave a comment on this blog post, preferably with a little note about why you're excited about this book too – and be sure to be logged in when you comment so I can contact you if you win. I will announce the winner on Saturday, January 13th. (1-13-18: ETA, THANK YOU ALL FOR PARTICIPATING! The randomly chosen winner (using two separate randomizing websites) is Patrick Fitzpatrick! Again, thanks to everyone who commented and shared this link – and to all of you who ordered books! I appreciate it so much!)
If you're wondering how to get a copy by other, less chancy means, here are 4 ways:
1) Order a signed copy from me at www.sigilwitchery.com, under "The Book"
2) Get it from your local witchy/occult/bookstore (yay support local!)
3) Order one through the publisher's website, www.llewellyn.com
4) If all else fails, there's amazon.com
If you already have a copy and are enjoying it, please consider leaving a review on goodreads, amazon, or a link to where you posted if it's on your blog. Super duper metaphysical cookie points for you!
FYI: I'll be doing a mini-tour in California prior to PantheaCon. I'll be at ConVocation and Paganicon – and stay tuned for summer/fall tour dates! (I'll be listing them on the www.sigilwitchery.com website, as well as my author website at www.lauratempestzakroff.com)
*(it came back from the printers ahead of schedule, hence why it's been available since mid-December).
**physical book will only be shipped within the United States. If you're international, then your prize will automatically be the custom sigil, which will be delivered digitally.
Official Rules:
– This giveaway is not authorized, supported, or endorsed by anyone other than me and a few scrappy deities.
– Comments must be left by midnight Pacific time 1/12 into 1/13.
– US winner may select to receive a signed book or custom sigil. International winner will get the custom sigil (no book option, sorry!)
– Void where prohibited by law and man-eating rabbits.
– Asshole comments will be deleted/blocked.