Have you ever thought about creating a sigil for the New Year?
Over on my Patreon, I decided to record a video for my patrons showing how I craft a sigil, as talked about in my newly released Sigil Witchery book. Some of you may not know, my method for crafting sigils is completely unrelated to chaos magic or ceremonial magic methods. My own method does not require knowledge of those approaches to make a successful sigil – which many folks find very agreeable and powerful. Keep in mind with magick, there's never just one way…ever.
I gave my patrons the option of doing a personal one, or folks contributing to a sigil to guide 2018 – and the latter won out!
Creating a sigil for the year is a good focus – I even wrote a really fun article for one of the Llewellyn annuals….that you can pick up this summer for NEXT year. (Sorry for that bit of anticipation!) We often create sigils for specific spells and instances, but it's quite effective to use them as a way to help guide your entire year.
My supporters were invited to suggest a word in consideration to what shall we bring in for the New Year? I proposed a limit of 10 words total, and luckily there was some overlap in words given, so I didn't have to do random selection.
The word list we came up with was:
– Breathe
– Fortify
– Justice
– Love
– Hope
– Growth
– Peace
– Gratitude
– Transformation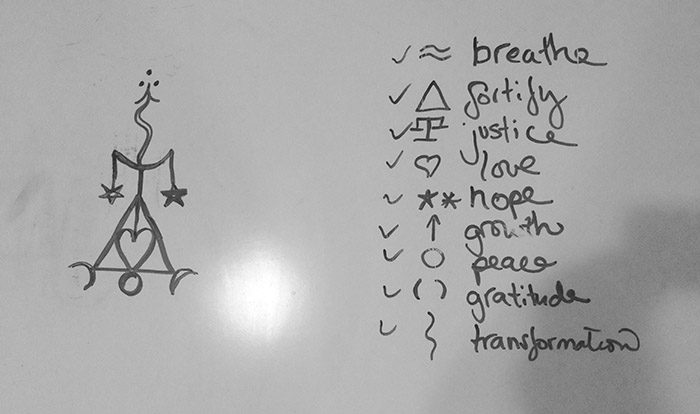 Through the video, I explained shapes associated with each word and demonstrated how I would combine them into a single image. The image above shows the whiteboard where I put down the words, worked out the shapes visually for folks, and crafted the sigil in front of them. (FYI, if you want to see this or any other Patreon videos, ALL levels of my Patreon supporters get access to images and content for just $1 a month…and I'm even more entertaining in front of a camera….so just putting that out there..)
Here is the final cleaned-up version: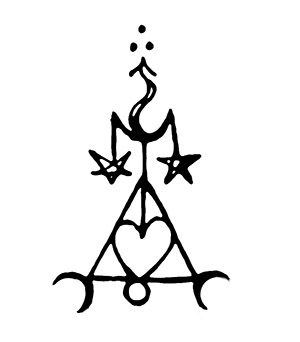 To apply and acknowledge the sigil, there are numerous things you can do. (Also another difference between my approach and some others). You could place a drawing of the sigil on your altar, or a post-it note on your mirror. You could draw it out with seeds, or carve it into soap and take a bath with it. The list goes on and on.
I invite you to use this one for your own personal needs if you find it pleasing – or perhaps consider making your own!