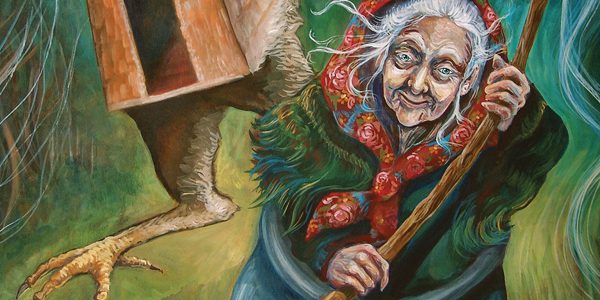 One important thing to know and remember: you don't argue with Baba Yaga.
"You need to 'X' ".  The voice rang out clear in my head, as if she was standing right next to me. Instantly my stomach dropped and my heartbeat quickened at her words.
I glanced around.  Everyone else in the circle under the shade of the giant tree seemed to be having a rather gentle, almost blissful experience. Maybe she hadn't gotten to them yet.
Her words weren't a polite suggestion or gentle nudge.  They carried the tone of the grandmother who knows your number, and she's done with your shit. I had been plopped into the boiling cauldron with a "how do you like them apples?" flair and wry smile.
She spoke the truth.  It was something I had been avoiding taking care of. The excuse list was a mile long on why I hadn't, and yet it was a huge source of underlying stress for me.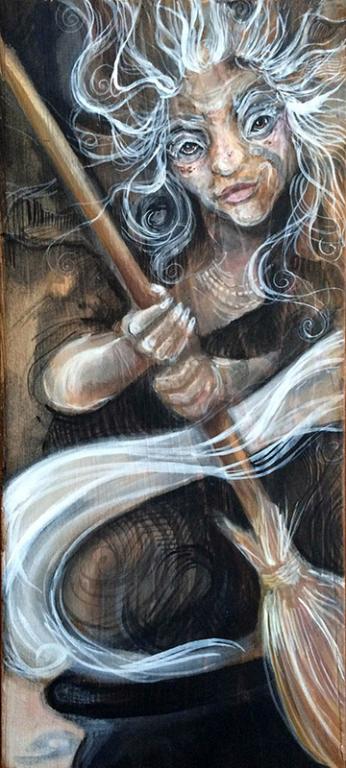 The place: a Baba Yaga ritual at Hexenfest, happening in the middle of a bright beautiful California fall day.  I rarely attend other folks' rituals at festivals – partly because I'm usually too busy running a booth or presenting, and partly because most other folks' rituals aren't a good fit for me.  But this ritual was being led by my friend Phoenix, I didn't have a schedule conflict, and it was a small enough festival that I could step away from my booth (but still keep an eye on it.)  Also, Baba Yaga and I go way back, so of course I went to the ritual. It was a lovely ritual and a print of one of my paintings decorated the altar.  Not sure what I was expecting, but safe to say I didn't quite expect to get called out. Oye.
After the ritual, I shared the command revelation with my partner, who is also quite familiar with Baba Yaga (he wrote a song about her).  We discussed what we needed to do, and I felt better that we were going to tackle this thing together.
But we ran smack into the busy season without setting a definite plan in motion. It could wait a little longer. But come the next round of Mercury Retrograde, we found ourselves facing a multi-level crisis that I wasn't sure how we were going to conquer.  We had to make some hard decisions and I felt like I was drowning in anxiety.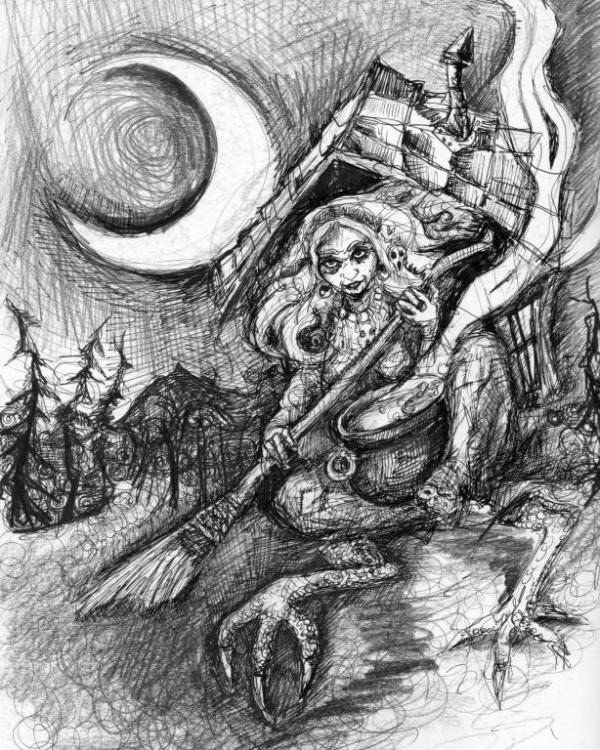 In the depths of the late-night insomnia, I called out to Baba Yaga. She cackled. I told her, "I know, I heard you. I AM going to do the thing. I give you my word, but we need to be able to get through this crisis first. I can't do the work I need to do with this happening.  If you help us, I will do such a painting for you."She smiled.  Almost instantly, I fell into a deep sleep.
The next day, I resolved myself to try a different route, and to my surprise, the biggest part of the crisis had mysteriously vanished. I must have asked the lady on the phone at least 3 times, "Are you sure? That's it? We're all set?"  I was so happy I cried.
Then, I took care of the thing. I had been hoping to find someone to help me with it, to make sure I did it right, but the message I got was, "You're smart. You can do this on your own. It may seem confusing, but it's not that hard. Look at it like a game."
So I did, and I tackled the thing, and I even added in a little sigil work for good measure. I breathed and sent it off. And then, as soon as I could, I got down to making Baba's painting.  I've done quite several drawings and paintings for her over the years, but never a large, full-color painting.  The painting came together quickly, and I got it done in time for the annual Goddess show at Gargoyles Statuary.  I modeled Baba after my Italian great grandmother Celie – my grandfather's mother. I recently had received a photo of my paternal great grandmother, and you would think it would make more sense to channel the Russian/Slavic side of my family, but nope. My hand and eye was guided to the little tiny woman who fascinated me as a little girl.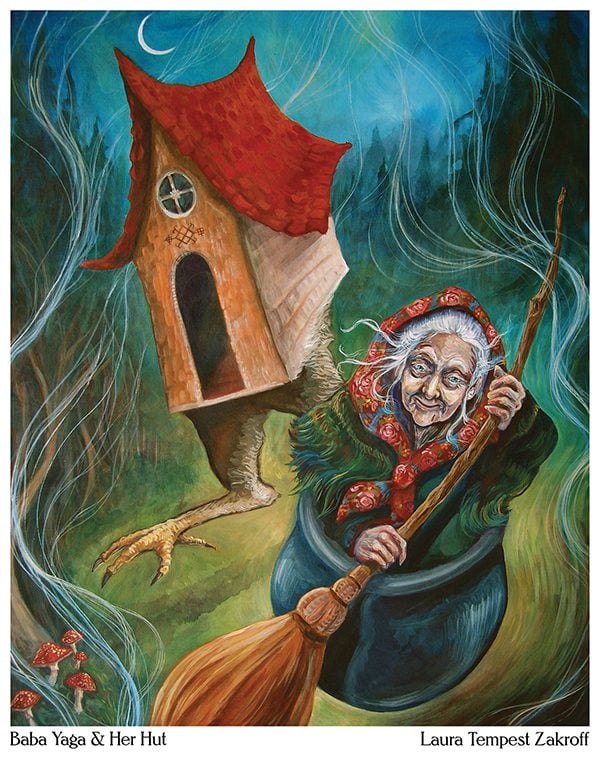 I did the thing.  I followed through with what I vowed to do on all accounts.
But I still worried. What if I had messed up somehow? I scanned the mail nervously every day.
Yesterday we got home from visiting family, and there was indeed something in the mail. Essentially what amounts to a bonus check from the whole ordeal.  Definitely not what I was expecting/fearing. Confirmation that I did the thing I supposed to do.
So I guess Baba Yaga likes her painting!