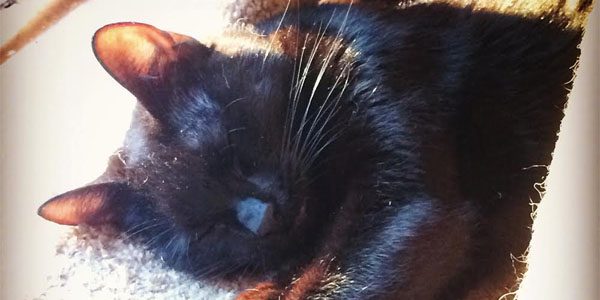 You know the expression "it must be something in the water?" That phrase usually follows the observation that everyone around you is pregnant or giving birth, babies everywhere. Human babies really don't show up on my radar, but the saying has felt applicable to kittens these last few months. Like everyone on my feed has been getting kittens, somehow, somewhere.
So. Many. Kittens. But we have 3 cats already, and decided that we weren't going to actively go and adopt another kitten. We're good. I mean, we wouldn't mind, but no, not now. We're good, really.
Even if we are crazy cat people.
But let's switch gears for a moment and consider humor, magick, and poking the universe. For example, even in its condensed form, my biography blurb tends to be a pretty heavy thing. I do a lot of things fairly well (artist, author, dancer, designer, etc), so when the space allows, I tend to throw in something a little on the silly side to lighten it up a bit. For a while it was something about bunnies and cookies. Then I switched over to "lives in Seattle with partner and 3 cats. A fourth cat is immanent." However, for my 3rd and 4th books that are coming out, I recently had to add more information about titles and such, so I needed to clear out that bit. I also said to myself, Sam (our youngest) is 5 years old, and if we haven't gotten a 4th cat in 5 years, we're good. I mean really, we're good.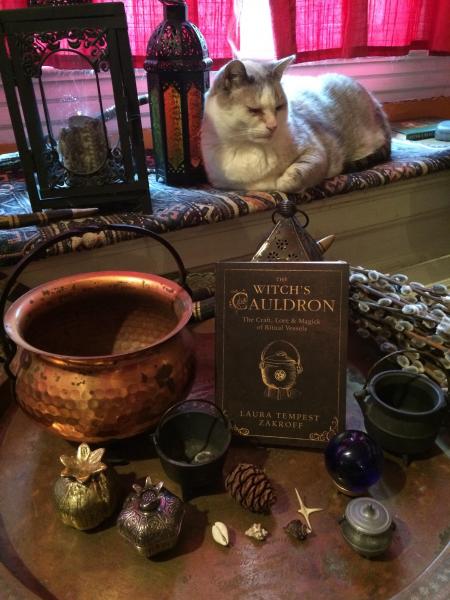 Then back in July we drove down to California for a family gathering. On the way home, when we reach a spot somewhere between I-80 and I-5, I always remember something that happened back in May 2013. It was my shift to drive. Since the time was early morning, I'm zooming along in the fast lane on a mostly empty freeway when I see a black, grey, and white striped kitten playing in the grass of center median. I exclaim, "Nathan! KITTEN!" and he says "Pull over!" As I was going pretty fast, we had traveled at least 1/4 of a mile during this exchange, so I got over, then backed up on the shoulder until we reached the approximate area I spotted the kitten. We get out, we walk for a while, but no kitten anywhere. Nathan hadn't spotted the kitten (he was napping or looking at his phone), so I feel a bit crazy. We get back in the car and head home.
A week later, we go to our local cat shelter, which we had visited a couple of times before, but hadn't found the right one yet. This time, sitting on a shelf in the kitten room is this little boy cat with the exact same color/pattern I had spotted back on the road in California. Extremely unlikely that it was the SAME exact kitten, but I knew this was the cat who was coming home with us. Sam. Sam also had a little all-black sister who was sweet as pie, but I was worried that Nora (one of our two older cats) would not get along with her. So we got just Sam. (This shelter is an amazing, no-kill shelter, and so I knew she would find a good home.)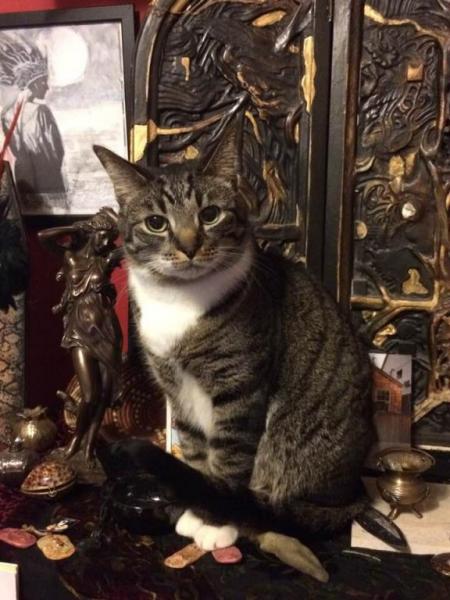 But every time we drive that section of road in California, I think about finding Sam…and on this trip, I think about his sister.
Less than a week later, I'm working upstairs in the studio, and I hear Nathan call for me. His voice sounds odd, so I stop what I'm doing and rush down. He's at our back screen door to the mud/laundry room, and standing outside is this little all black cat clearly wanting IN. It's nearly 90 degrees out, so I grab a bowl of water, we close the door that separates the room from the rest of the house, and open the screen door. Tiny black cat wanders in like she owns the place and helps herself to water and food.
She's not afraid of us, lets us pet her, and then I carefully pick her up to inspect her. No collar, clean fur, purring. She smells and acts like an indoor cat. We feel such angst for whomever must have lost this sweet kitten, so we immediately try to find some vet or shelter that would be open to scan her for a chip. It's Sunday, so pickings are slim, but we find an ER vet and she merrily comes with us. They can't find a chip. We walk the neighborhood several times, talking to everyone we come across. Someone has to be looking for this cat. I post on all of the sites, and get heart-breaking emails from folks who have been looking for their cats 1-3 months or more now, but none of the photos are her. I search all the lost cat listings. We walk the neighborhood again. Nothing.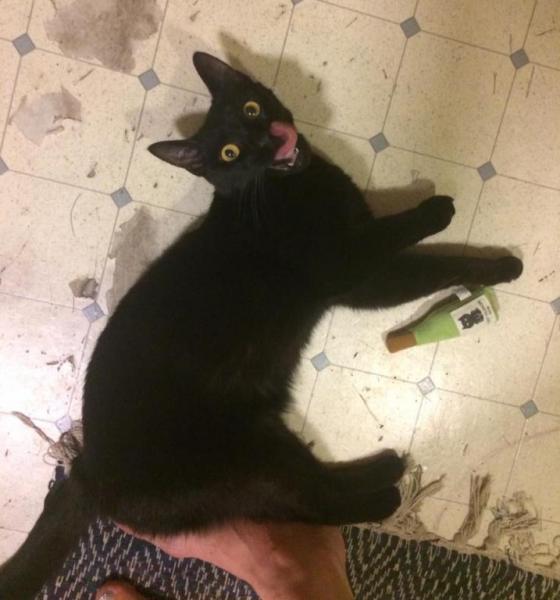 The next morning we go to a different vet in our neighborhood – and they DO find a chip right off the bat, but there's NO information on it besides the number. Not even who installed it. They tell us she's about 7 months to a year old, pretty healthy-looking, and recommend we call around to other vets. We call every area vet, none of them have the number in their records and they all say,the info should have at LEAST who installed the chip, even if the owner hadn't filled out their part yet. So weird!
A few more days go by. I'm scouring online and the neighborhood for any sign that someone is looking for her. No one is looking for this cat. The boys are desperately curious about the sounds and smells from the laundry room, and this little cat wants to explore. We talk about adding her to our household. The thing is, if one of our cats had gotten out (they're all indoor), within an hour we would have flyers and postings up all over the place. We go to a cat clinic where one of our friends works, and get her properly checked out, shots, etc. Hilariously, they can't find the chip at all (they used several different scanners, including the one the 2nd vet used.)
It's starting to look like someone just dumped or abandoned her. There's a parking lot for restaurants behind our home, and there's a hole in the gate big enough for a small cat to get through. We used to get more cats in the yard, then the landlord replaced the fence, which is solid and over 6′, so it's a lot harder for bigger cats to get into the yard.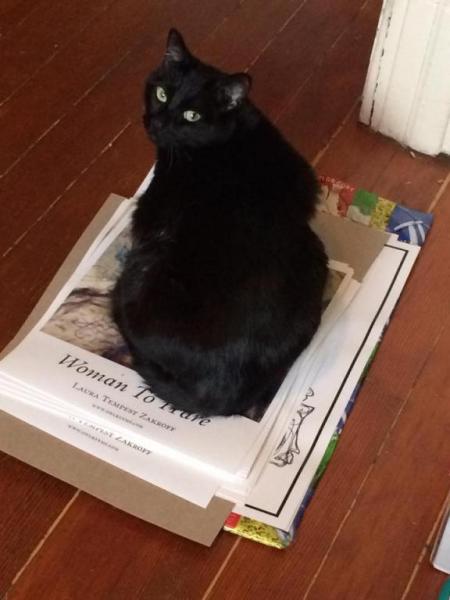 The cat gets a name: Grace (or Gracie). She is an absolute sweetheart. The furry residents are all sorting out their places, but so far minus some growling and light hissing, it's going fairly well. Our house is big enough for everyone to have their own space, but we picked up Feliway to help with the transition (and consulted our Jackson Galaxy books). Gracie has claimed a drum bag in the basement for daytime sleep, so I guess she's assuming the title of Basement Cat. Sam (who likes to fly) is Ceiling Cat. Nora is focused on remaining the Queen of the Castle. Simon is afraid of a cat who's less than half his weight.
During all of this craziness, all of our friends on facebook said, "congratulations! you've been adopted!" "Witch kitty came to witch house!" and so forth. And I posted "oops, I think I accidentally manifested a kitten." Which has surprised no one.
So…that's why it's been quiet around here for the last week or so. We have been up to our ears in cats, and everyone is a little stressed (particularly the humans, worrying about the cats), but knock on wood, it looks like our 4th cat has arrived.