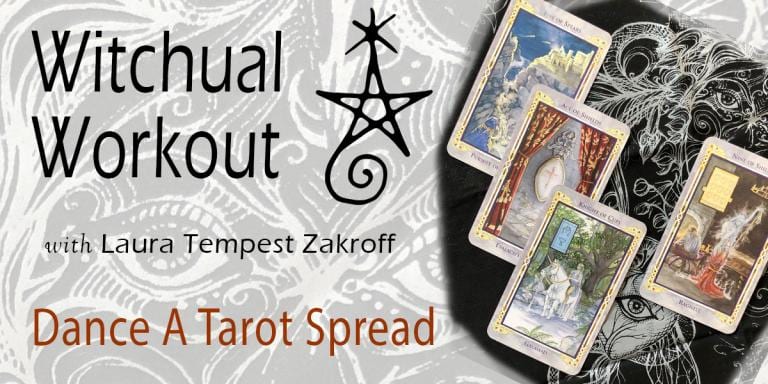 Time to recap the last week of the Witchual Workout! If you don't know about it – the Witchual Workout is a daily program designed to get you (and me) up and moving regularly – with a dash of magical inspiration to help build and enhance your daily practice. You don't have to be a dancer of any kind to participate and I encourage you to listen to your body and modify as needed. Many of these episodes can be done from a seated position as well.
Last week brought an eclectic mix of presentations to finish off the year: a Light-Bringer's dance, connecting through spirit, sovereignty & sensuality inspired by Lilith, and how to dance a Tarot spread. While there were only 4 episodes last week, there's a lot to work with on a multitude of levels.
Monday, December 21st – Witchual Workout 106: Solstice Dance
It's the Winter Solstice here in the Northern Hemisphere, so I present to you a light-bringer's dance to inspire your path and practice. Obviously not a workout of the body, but part of learning dance and movement is to exercise and fascinate the mind as well. Watching other people's exploration of dance is a wonderful way to bring the fire of inspiration to you. Bring forth the light!
Tuesday, December 22nd- Witchual Workout 107: Oracle – Walnut
Today is an oracle day and we received "Walnut" from the Tree group. Walnut brings many messages and often symbolizes dreams, inspiration, wisdom, and protection. For today though, I feel the primary message is the power of gathering and cherishing those around us – but not necessarily having to do it physically. Instead we take inspiration from the Walnut Tree of Benevento and join in a bit of spirit flight to gather and celebrate.
Wednesday, December 23rd- Witchual Workout 108: Lilith
It's Wednesday, so we're looking to the divine again for our theme. Today's inspiration is Lilith. Lilith is a very complicated figure in mythology, originating from ancient Mesopotamia and likely most famous for her brief appearance in the Talmud from the time of the Babylonian exile for the Jewish people. She has many interpretations – Queen of Night, Mother of Demons, Goddess of Magic to name a few, and is often viewed as a modern feminist icon. Today we're focusing on sovereignty over ourselves, our own bodies, and their innate sensuality and power. We also acknowledge the darkness and our passage through it.
Thursday, December 24th – Witchual Workout 109: Dance a Tarot Spread
Today is a Tarot day and it's also our last episode of the year. The Witchual Workout will be back the first Monday of January, and remember that there's 109 episodes for you to work through at any time. We're doing something fun and special day, which is considering how to dance a whole Tarot spread. I have pulled 4 cards for a Threefold spread. In the past position is the 5 of Wands, in the present we have the Ace of Pentacles, in the future sits the Knight of Cups, and our overall theme card is the 9 of Pentacles. A quick read is that our goal for the year was to break old patterns and unhealthy cycles of thinking, to discover blessings in disguise, and to consider what our hearts really want. That transformation is possible if we give ourselves permission to make the choices we truly need to move forward and succeed.
Thank you so much for joining me on this movement journey this year. Don't forget there's a 109 episodes you can work with at any time. The Witchual Workout will start again the first Monday in January 2021.