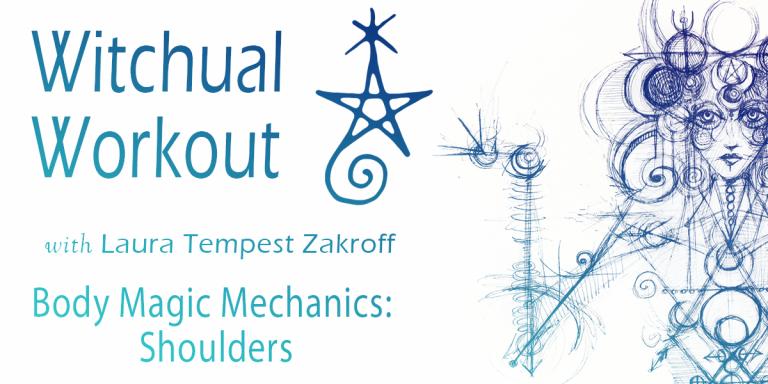 Time to recap the last week of the Witchual Workout! If you don't know about it – the Witchual Workout is a daily program designed to get you (and me) up and moving regularly – with a dash of magical inspiration to help build and enhance your daily practice. You don't have to be a dancer of any kind to participate and I encourage you to listen to your body and modify as needed. Many of these episodes can be done from a seated position as well.
The major theme for last week's episodes was working with the shoulders. The shoulders are a crucial area for movement – connecting our arms to our torso, working energy into the core and out of it. We also hold so much tension in this area that can cause us a lot of aches and pains – so some of the episodes help you release that tension and improve your general posture.
So last week's episode Here they are (in order):
Monday, November 23rd: Witchual Workout 86: Body Magic Mechanics – Shoulders
Today we're focusing on technique and body mechanics – zeroing in on the shoulders. The shoulders are a crucial zone of movement – they add so much energy, personality, and power to our overall posture and movement. In today's episode, in the first song we warm up through slow movements then have some fun with fast movements in the second song.
Tuesday, November 24th: Witchual Workout 87: Oracle – Fish
Today is an oracle day and we received the Fish spirit – a symbol of luck, liminality, and flowing movement. Fish tend to slow down in winter to adjust to the cold, so we'll take this wisdom and apply it to slowing down our movements, focusing on the flow and tides of the world around us.
Wednesday, November 25th: Witchual Workout 88: Fortuna
It's Wednesday, so we're looking to the divine again for our theme. Today's inspiration is Fortuna – the Roman goddess of prosperity and wealth. As we finish up this year, consider what fortunate things have happened to you – what blessings, what are you grateful for, what do you wish to manifest in the year to come?
Thursday, November 26th: Witchual Workout 89: Tarot – 3 of Wands Movement Meditation
Today is a Tarot day – and we received the 3 of Wands. Threes present us with choices and Wands focus on ideas – so we're taking a moment to explore the current territory instead of rushing through, considering plans and possibilities.
Friday, November 27th: Witchual Workout 90: Body Magic Mechanics – Shoulders + Neck
Today we're doing a seated exercise to look at little more closely at the shoulders and the neck as well. Without the distraction of music or trying to move other parts of your body, I focus on how your shoulders moved, how to get more out of your movements, and some really simple movements and stretches you can do to master your body safely and easily.
I've made a handy playlist of all of the Witchual Workout episodes – you can access it here. You can absolutely jump around to different episodes or themes, or levels of difficulty. Some episodes are designed just for sitting or focus on a single part of the body, so you can do what you are able or feeling engaged to do.