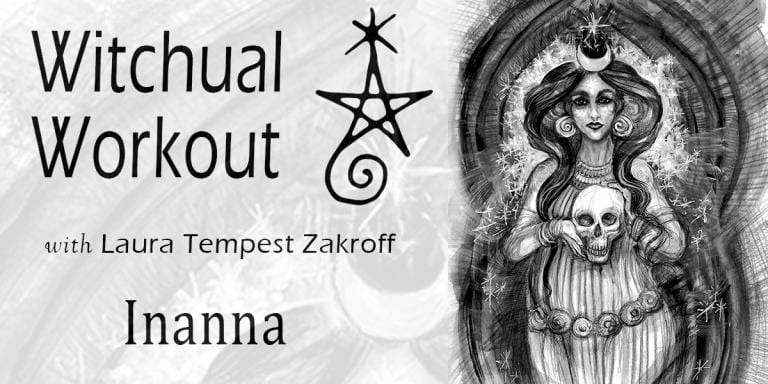 Time to recap the last week of the Witchual Workout! If you don't know about it – the Witchual Workout is a daily program designed to get you (and me) up and moving regularly – with a dash of magical inspiration to help build and enhance your daily practice. You don't have to be a dancer of any kind to participate and I encourage you to listen to your body and modify as needed. Many of these episodes can be done from a seated position as well.
The major theme for last week's episodes was tapping into our strength to prepare for the season ahead – whether that's rooted in the land, our ancestors, or finding it within ourselves. There are 3 separate ritual activities to aid you on your path.
Monday, November 30th – Witchual Workout 91: Full Moon Ritual (Oak Moon)
Monday we explore lunar influences, and today is the Full Moon. In some traditions, this moon is called the Oak Moon. We draw upon the strength of the mighty Oak tree to help us fortify for the Winter ahead. So we are doing a ritual to focus on one thing to bring that strength to and put it out into the world.
Tuesday, December 1st – Witchual Workout 92: Oracle – Desert
Today is an oracle day and we received the Desert spirit. The Desert reminds us to be conservative with our resources and energy, to take it slow, to plan for the long haul. It also is a card that speaks to the ancestors, those that came before us, and reminding us that one day, we to shall be ancestors.
Wednesday, December 2nd – Witchual Workout 93: Inanna
It's Wednesday, so we're looking to the divine again for our theme. Today's inspiration is the Sumerian goddess Inanna. She is said to oversee love, justice, warfare, and holds the title of "Queen of Heaven." She is most well-known for her infamous descent into the Underworld – and her return. In today's experience, we work through 7 areas of our bodies, releasing and cleansing this parts to leave them behind as we prepare for a new year. There is no warm-up, so if you're looking for a full-body workout, visit an earlier episode.
Thursday, December 3rd – Witchual Workout 94: Tarot – Page of Cups
Today is a Tarot day – and we received the Page of Cups. Pages represent messages or messengers – and cups deal with emotional exploration. In Legend: The Arthurian Tarot, the Page of Cups is represented by the Salmon – a being of wisdom, of depth. It brings creativity and inspiration as well – but often we try to chase down creativity, it evades us. So today, we're having a bit of fun to loosen up, to let go, to be silly and remember life is for living.
Friday, December 4th – Witchual Workout 95: A Dance for Those Who Have Passed
I didn't have the voice to speak much, so please forgive the lack of audio introduction. Today is simply a dance to honor and remember those who passed far too soon – and all of us grieving the loss in our own way. This has been a year of so much loss and death, and it never gets any easier with each passing. (Nor should it.) This dance calls in the elements, the directions, those that have come before and those that will come after, and our connection to everything through the mind, heart, and body (3 Cauldrons). You can read more about the song in the video details and there's also a link for a sigil. In memory of S.T. Shimi aka Black Orchid. Shine on.
I've made a handy playlist of all of the Witchual Workout episodes – you can access it here. You can absolutely jump around to different episodes or themes, or levels of difficulty. Some episodes are designed just for sitting or focus on a single part of the body, so you can do what you are able or feeling engaged to do