Spending periods of quality time doing shared activities alone with your spouse each week is the most important way to deepen and strengthen physical and emotional intimacy.  In fact, the amount of time a couple spends alone and with each other, talking, or sharing activities together is a key factor in predicting their overall marital happiness, according to psychologist Eli J. Finkel.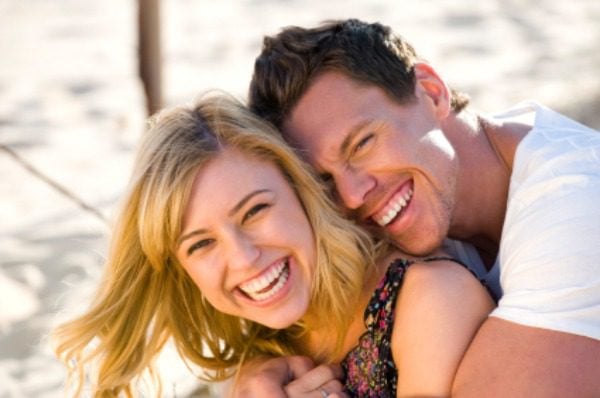 In the All-Or-Nothing Marriage, Finkel explains that there has been a 40% decline in the last three decades in the amount of time that couples who have children spend together. The reasons include busier work schedules and chronic interruptions due to multitasking and technology.
Whether you make a standing date to go to the gym, explore your neighborhood, watch a movie, go to a concert, or do another activity you enjoy, you and your partner must make a commitment to time alone each week. I know the demands of daily life seem to leave little time or money left over for such relaxed, fun activities, but alone time together is part of the time and energy investment you are making in your relationship and it will pay of in the long run.
Karen, 36, and Sam, 38, have two pre-school-age children, work fulltime in demanding jobs, and often feel drained by the end of the workday. Over the seven years of their marriage, they have fallen into the trap of neglecting their relationship.
Karen set up a counseling appointment with me because she had become very disconnected from Chris and often felt lonely. During our first session, they both explained to me that they had drifted apart.
Karen reflects: "Sam complains that we don't have time or money to go out, but I need time to recover from work and I want to spend more quality time with him at home. I spend most nights watching TV alone while Sam is on the computer and working on his business. I'd like to get back to spending time together, but it seems like he's not interested. Sam told me he wants more time together too but we don't know where to start."
When Karen expressed her feelings to Sam during our counseling session, she was relieved to discover that he had a few good ideas for ways to spend quality time together. He just didn't see how they could do that given how short on time and had different priorities since their kids were getting older and needed to be driven places such as soccer or gymnastics.
After brainstorming for a while, Sam and Karen were able to come up with low-cost activities that fit into their budget. They also spent one weeknight either going for a long walk or to the gym, activities they both enjoy. Fortunately, their neighbor was willing to trade babysitting so it wasn't a problem. This plan satisfied both of them and enabled them to give their relationship the attention it needed. After just a few weeks, each felt more contented.
Karen and Sam learned an important lesson: you don't have to choose between your career and being a good partner. As a nation, we tend to invest more time in work than we do in our intimate relationships. Working together to find the right balance will pay off in the end for you, your marriage, and your career.
5 Ways to bring more intentional time into your relationship:
Put a few hours of alone time with your partner on your calendar weekly. This time can be broken into several 30-minute intervals or spent in longer blocks of time.
Choose activities that are pleasurable to both of you. This will make it more likely that both of you will commit. These activities can be low or no cost such as having a picnic or playing a game.
A "Date Night" is an enjoyable way for you and your partner to spend time together on a weekly or monthly basis. For instance, you might eat at your favorite restaurant and even call ahead to reserve a preferred table.
Increase physical affection daily. You can do this by hugging more or giving each other a six-second kiss when you greet each other or say goodbye. Trying connecting two parts of your body, such as holding hands and kissing.
Try something new and exciting together. Add a little novelty by learning or doing something new together. For instance, many couples enjoy dancing, kayaking, biking, or hiking through an unexplored area.
Karen and Sam learned to make their marriage a priority instead of always putting others first and being caught up int the hectic pace of their lives. Like this couple, you will find the right balance that will bring you more intimacy in your marriage and enhance your overall happiness!
Follow Terry here: Twitter, Facebook, and, movingpastdivorce.com. Terry's award winning book Daughters of Divorce: Overcome the Legacy of Your Parents' Breakup and Enjoy a Happy, Long-Lasting Relationship is available on her website.
Terry's forthcoming book, The Remarriage Manual: How to Make Everything Work Better the Second Time Around, will be published by Sounds True in February of 2020.