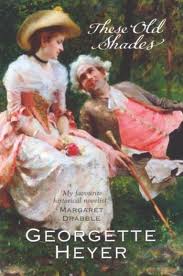 Several times before I have recommended Georgette Heyer to my female readers (although a fella who likes Jane Austen might be interested, as well). I admit, I am an unabashed fool for The Convenient Marriage – one of the funniest and best-written books I've ever read into the night while giggling enough to awaken my husband. Now, I have a second "favorite."
So, on Friday, I began reading one of Heyer's earliest books, These Old Shades – a book I'd avoided because I generally don't like stories set in France – all those French names and airs! But quickly I became completely swept up by this writer's incredible gift for character and historical accuracy. In this book Heyer manages to create a bright and chirping heroine and match her to a dark, truly dark, hero one nevertheless wants to trust, and to write a story that is – at its core – rather harrowing, while still managing to make you smile. That's no small feat.
I admit, this one is not a laugh-out-loud sort of book. Although the hero's sister and brother are blithe and perfect comic creations, one's urge to snigger is tempered by the ghastly background story of Leon…and Leonie. At one point I was surprised to find myself wiping away tears – I do not usually weep over a bit of fiction – and yesterday afternoon, trying to gobble down the book before an evening engagement, I watched Heyer go to an astounding place, and I slapped the book down, flabbergasted.
"I can't believe she wrote that!" I said to my husband.
"What," he said, completely disinterested.
"What she wrote; I can't believe she went there – that she took her hero to that place – and she made it heroic!"
"This is a bad thing?"
"I would never have the guts to do it! I'd never be able to write it! It's such a moral conundrum!"
"Is this the heroine we're talking about?"
"No, the writer! And the hero!"
"I thought the writer was a woman," he said. "That would make her a heroine."
"Bah!" I said, channeling the heroine, "you don't understand! The hero…he did something so reprehensible – very, very bad, indeed!"
"So, it's bad, the book," he wondered.
I sighed. "It's freaking glorious! It's phenomenal! I can't believe she went there, though! What a read this is! What a thumping good read! A triumph! Absolument!"
Sadly, I had to wait until we'd returned, rather late, to get back into and finally finish the story. And tonight…I begin to read it again, because a book this good deserves a second read. You'll love it. What a read!