We've joked that our new Pontiff and I seem to be enjoying an unusual bit of synchonicity on the issue of idolatry. In his wonderful talks and homilies he touches frequently on the issue, enough so that Brandon Vogt — the hardly sleeping and inventive Brandon Vogt — took the time to create this amusing photoshop for me: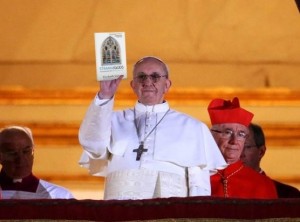 Here's Pope Francis this morning:
"The worship of the golden calf of old has found a new and heartless image in the cult of money and the dictatorship of an economy which is faceless and lacking any truly human goal," Francis told the ambassadors.
His Holiness had interesting things to say about how the pursuit of money can become a tyrannical disregard for human beings except as a means to more — and he is quite right. But I have idols and idolatry on the brain, just now, so his mentioning the golden calf jumped out at me.
But it appears our Holy Father has been pondering idols and all the ways we disconnect ourselves from God, for a while. A Dominican sister recently sent me this video from about 8 months ago — while he was still Cardinal Bergoglio — wherein (at about 1:30) he touches idolatry:
"The pope often speaks of attitudes that, in their essence, are idolatrous such as relativism; narcissism; consumerism. They are completely foreign to worship of the true God, therefore they are idolatrous, attitudes, right? And in today's society, new idols are continuously established and driven by consumerism, isn't that true? There is where people get hooked! Indeed, there is a strong need to renew the faith; to pray the creed with our hearts; to say 'I believe in Jesus.' In a similar way, the pope teaches us what St. Paul told Timothy: 'remember Jesus Christ.' So in this year, remember Jesus Christ. Renew the faith; revitalize it. Only Jesus provides the answer to this rampant idolatry, and he reigns from the cross. If we deny the cross of Jesus, we deny Jesus."
The pope goes on to talk about paganism and pantheism. He talks of idolatry as a caricature of love — (I bring that up in my book, too! Mind meld!) — while children are dying of hunger and are in need of real love. "First cosmetics, and then if something is left, we throw it toward the children…"
It's really an excellent little interview out of EWTN, and I urge you to take the fifteen minutes to watch it.
More Pope Francis on Idols and Idolatry:
"we risk slipping into idolatry…"
"Satan always rips us off…"
Audience, May 15, 2013
Tweet!
UPDATE:
You can read an excerpt from Chapter One of my book here, and a few first reviews here and here. I am very grateful (and appreciative that Dorian Speed has called the last chapter "hilarious") and more humbled and terrified than I can express.