One chapter of Strange Gods is entitled, "Through the Looking Glass: Super Idols and Language", and part of it entails looking at how we use, over-use and misuse certain words — or, sometimes, completely co-opt language — in order to facilitate the creation of idols.
. . . when we render words meaningless — especially powerful words like peace and love — our understanding of them becomes warped. Then, as when a teenager flings his stuff thoughtlessly and lazily about the house — disorder follows.

People die for the depth of feeling and understanding that reside within peace and love when they are rightly defined. When the meaning of these words is up for grabs, so are the changes that anyone would think of sacrificing himself or herself for amorphous relativism. And when sacrifice is removed from the equation, an unpromising future of sterile self-regard is what remains.
Funnily enough, that excerpt could apply to the post below, but I was thinking of it this morning in relation to how Pope Francis is managing to, in a sense, reclaim words — and perhaps reclaim concepts — for the sake of Christ and his church, by using words the world likes.
Although I always found Pope Benedict XVI to be very clear and accessible in both his speech and writings, I confess to sometimes finding Blessed Pope John Paul to impenetrable on first-read. Pope Francis doesn't use many formalities in his homilies — they read as they fall from his mouth and he rarely sounds like an encyclical-in-progress. Rather, he uses words we all use, if not always precisely as the zeitgeist might.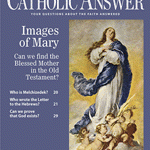 That's the point I make over at The Catholic Answer Magazine in their November/December issue (which also features a piece by Father Dwight), in which I talk about Francis' "verbal jujitsu":
Most Catholics found nothing new or surprising in Francis' remarks, but the secular press ran with bare-bones reports ("Pope says 'obey your conscience!'") that caused some Christians to wonder whether the Pope was advancing a new, more relativistic understanding of mercy, and even left some Catholic writers grousing (as I admit, I did) that rescuing Pope Francis' full meaning from the filters and willful truncations of the press was becoming a full-time job. But it is a job worth having. Pope Francis means to convert the world by speaking its language back to it; clarification and discussion of his words, then, becomes a gift of dialogue and our evangelical privilege.
. . .By addressing the world informally, and in the very PC sort of language that, on the surface, seems to win the world's approval, he invokes the countercultural realities of the Faith in a way that stands modern philosophies and secularist assumptions on their heads. Sometimes he seems counterintuitive to Christians, too, as he did in early September, when — for the second time in his short pontificate — he pointedly declared that atheists and unbelievers could well be as moral as any man or woman of faith and could go to heaven, too. Responding to an editorial in which La Repubblica founder Eugenio Scalfari wondered how the existence of God could be proven and whether "the Christian God forgives those who do not believe and do not seek faith," Pope Francis. . .proceeded to explain how the life and witness of the Church, in all its faults, did — through both faith and reason — lead him to the reality of Christ Jesus, and that, "God's mercy has no limits; if he who asks for mercy does so in contrition and with a sincere heart, the issue for those who do not believe in God is in obeying their own conscience."
You can read the whole thing, here.
As I have written elsewhere, Francis' talks may seem to create a lot of work for us, but they get the press discussing real Catholic teaching, and they get the rest of us to come out of our own comfortable echo chambers, and read and think and talk, too. It's all good.