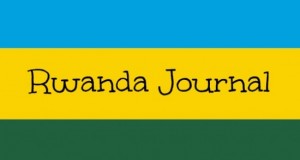 If you didn't have a chance to see them — or if perhaps you only saw one or two come through your social media timeline, and not the rest — please do take some time this week, perhaps over a long cup of coffee, and read the excellent journaling Lisa Hendey did throughout her trip to Rwanda.
Lisa, who has partnered with Catholic Relief Services for a couple of years, spent an intensive week in Rwanda after being chosen for an Egan Fellowship, and the pictures and stories she has delivered to us are incredibly inspiring. My very favorite report was this one, Journal #8, Forgiveness and New Friendships and Selfies, which brought showed us the human capacity for destruction and redemption:
Our winding road took us eventually to a dirt cart path sprinkled with large rocks, where we were greeted by a community of Genocide survivors who are predominantly widows. These women have chosen to live in community and have been supported in recent years by Catholic Relief Services. Our meeting with the widows took place in an open field surrounded by goats and their small housing structures. The photo you see above features the restroom they kindly opened for us, as well as some of the amazing personalities who shared their stories of loss, survival and community with us. While there were men and children gathered with us, it was clear to me that these matriarchs have forged a bond that has allowed them to not only survive horrific loss and grief, but also to become a support and a family to one another. I could have stayed at Kamonyi all day. One lasting impression of this place is the reminder that our donations to Catholic Relief Services, modest though they may sometimes be, can have a profound and lasting impact on the lives of the families support by CRS. These widows were quick to thank us for the goats that had been gifted to their community in the past year from CRS. For less than the price a family of four would pay for a dinner out at home in the US, an equivalent donation could be a lifeline to people living on the edge of devastation.

Following a delicious lunch in Nyanza, we had another exciting drive through a rain soaked dirt "road" to Rugnago Parish in Huye, where Catholic Relief Services has partnership programs with the local community. Our first meeting was an intimate conversation with members of the Community Healing and Reconciliation Program where we witnessed genocide perpetrators and survivors sharing their testimonials about the reconciliation they have built in the years since the genocide. One after the next, standing in pairs, a genocide survivor who had lost his or her family and livelihood to mass murder and theft stood partnered with the perpetrator who had killed their loved ones. Time after time, they emotionally told both sides of their stories and finished with a message of renewed forgiveness and an embrace. I have several videos of these moments that I will be sharing in the weeks ahead. For the second time of the day, I was overcome by emotion and moved to tears.
Everyday was an adventure, and I really felt like I was there, with Lisa, particularly when she shared pics like this one.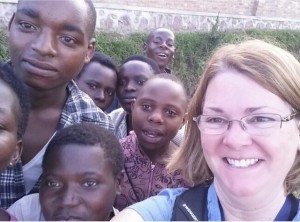 Delightful shots of beautiful children and young people living life in a way, and with perspectives we can barely imagine. I confess, these pictures filled me with a kind of longing, even though I was happy for Lisa. Longtime readers may remember how deeply the 2010 earthquake and post-quake realities of the people of Haiti affected me and my family. My heart wanted to go there, and be of some real use to people, even though I was told emphatically that the best thing I could do was to keep writing about Haiti, and urging prayers and donations. That may have been true; I'm sure it was true, but even now, I wish I could have done more for the kids whose little faces so captivated my heart.
And it's awful that I'm talking about me, me, me when this is really a post about Lisa, but seeing the images on her blog, and getting a sense of how her trip has changed her life in unexpected ways, I confess to a real case of holy envy. I'm so glad she went to Rwanda, and I'm so glad she is back with us, and I have really loved all she has shared, and will doubtless continue to share as she processes her journey.
Do check it out, and see how the worthwhile work that Catholic Relief Services is involved with.