Julie Davis beat me to it, but as usual, I have some Advent Reading ideas — and more than one of them would also make terrific Christmas gifts: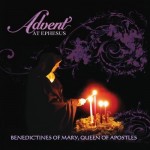 Topping the List, because I just think it's so cool to have music specific to Advent to access at this time: The Benedictines of Mary's must-have recording, Advent at Ephesus. If you didn't get it last year, do yourself a favor and gift yourself with this glorious music, which is the antidote to all the noise that is about to come upon us. Listen here; they have an astonishing tone.
This might seem like a counter-intuitive title, but Kyle R. Cupp's Living By Faith, Dwelling in Doubt: A Story of Belief, Uncertainty, and Boundless Love is not a bad read for Advent, particularly if — as sometimes happens — your faith is feeling wander-ish and unanchored.
When I needed a father I found the fatherhood of God. I discovered a person disclosed by the Scriptures I studied and the sacraments I received. I chose to embrace this person as my truest father. I recall the moment I formally made this choice. I was alone on our driveway, shooting hoops poorly, contemplating my God intently. And then I knew who my father was and what I had to do. And so I did it. I called my God "father," not as an abstraction, but as a term of endearment from a son. […] The way we imagine God sets the road we will take.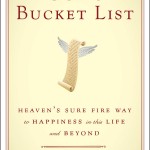 Because Advent is also the beginning of the new Liturgical Year — and because it is all about promise and new beginnings, I'm recommending God's Bucket List by Teresa Tomeo. It too is, in its way, counter-intuitive as it argues that the best way to accomplish one's own "Bucket List" is to first pursue God's: Live in Stillness; Live with Passion; Live with Instruction; Live in the Mess.
I'm using this book, myself, this Advent, because I need some new perspective to inform what I hope is new resolve. This is a very good gift idea, as well.
Finally, this will seem very "different" but I think you'll like it. Pretty recently I reviewed and recommended Paul Thigpen's gorgeous A Year With the Saints: Daily Meditations with the Holy Ones of God — which is a gift people would truly treasure, btw — but I plan on using Bert Ghezzi's Saints Devotional Bible regularly, for Advent. It's the NABRE translation, which is pretty readable, but it also includes about 200 readings from the saints — meditations, lessons, letters — that apply to what is being read in the Old or New Testaments, and help to broaden understanding. I've been picking this up now and again over the past few months and there is something comforting in reading a bit of scripture and then turning directly to something written by our spiritual ancestors — you get that sense of continuation that is oddly consoling. Speaking only for myself, when I'm feeling challenged, this book weaves the threading troubles of the day into the pattern of everything that came before, and makes you realize that whatever the issue is, it's part of a great whole-cloth. You know how it felt to see Pope Francis holding the bones of Saint Peter? This bible gives me that same sort of sense — that there is a meaningful continuum.
If you're looking for more traditionally "Advent-y" material, I still stand by these past recommendations from 2010 and 2012, which are heavy on Advent-specific books that are so good I they stand the test of time.
UPDATE:
Someone just asked me why I wasn't also recommending this book for Advent reading, and I said, "because I didn't think of it". And he said, "well, that dumb. The Advent of the Incarnation of God is a really good time to ponder all the things we mistake for God in our lives, so we can de-clutter in time for Christ."
And I was like, "well, yeah…"
So, you know. . .as Jay Sherman would say often — until someone shot him — "Buy my book! Buy my book!".