Nothing is static. I recently posted my annual "Nun News Roundup" piece (which had helpful reader additions in the combox), but just a few days later — on a great Marian Solemnity — these two very Mary-connected communities welcomed newbies!
I knew the Summit Dominicans were expecting a postulant in October (and more to come this year; that's why they desperately need to succeed in their building campaign), but not this early.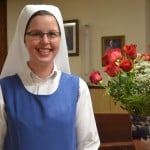 Yesterday they welcomed Sister Emily, and decked her out in their robin's egg blue postulant's jumper:
The Solemnity of Our Lady of the Rosary is always a special day for our community as it is the patronal feast of our Monastery, but this year it was extra special with the entrance of a new postulant! This afternoon Sr. Emily entered the enclosure to begin her postulancy…She graduated from La Salle University with a BS in nutrition and is a registered dietitian.
There is a gallery of pictures, and it looks like the nuns had a whale of a time holding adorable babies.
Meanwhile the Sisters, Slaves of the Immaculate Heart of Mary, which functions in the Extraordinary Form, gave their postulant's garb to young Kylie:
This six month period, a prelude to the Noviciate, will offer our new postulant a chance to live the life of a Sister in serious discernment. We are so happy to receive her into our religious family!
On the feast of the Holy Rosary, Kylie Spinelli from New York, became a postulant, taking the first step to becoming a Slave of the Immaculate Heart of Mary.
There is also a gallery of pictures, there. This is a nice shot of the novitiate: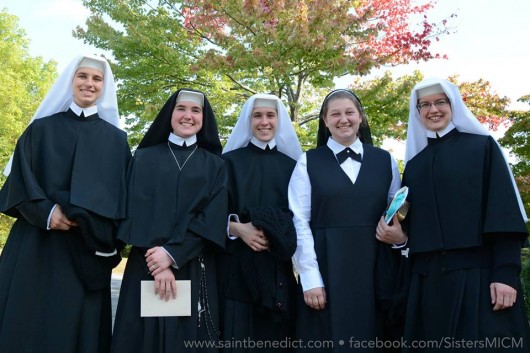 Let us pray for more and more vocations to the priesthood and religious life, and — as is being discussed within the synod — for a renewed understanding of the vocations of matrimony and to the single life, as well.
UPDATE:
And on the same day, A new Poor Clare Novice, out of this novitiate.
I wonder if these young ladies experience something of the shock of an uprooting, as described here.
Related:
A Must Read: Sure, we need nuns, but not my daughter!