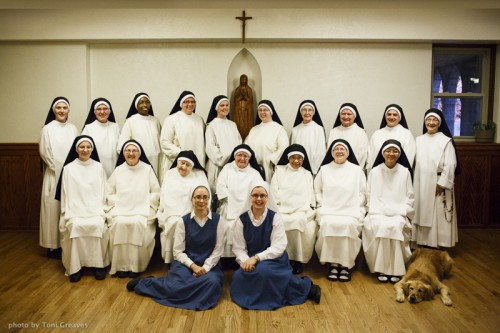 A few months ago, I wrote about the Dominincan Nuns at Our Lady of the Rosary Monastery (aka "the soap nuns"*) running out of room and launching a very necessary capital campaign meant to create enough space for younger women to find their monastic vocations, and older sisters to manage their way around multiple levels.
Part of their renovation plans would include a ramp for the less mobile among us, and a better elevator that the antiquated lift that is now in use. Over the weekend, the nuns got a serious reminder of how badly they need these upgrades:
Today one of our sisters had, as she calls it, an "adventure" due to some temperamental machinery. We have a "mini-vator" that allows sisters who need it to access the basement level without having to use the stairs. One unfortunate feature is that it is actually on the cloister, enclosed only by screens on the first floor. Today said sister was travelling between floors when the mini-vator abruptly stopped working.

We promptly called our handy-man….whose voicemail box was full, so we couldn't leave a message! No worries, Sr. Mary Magdalene has a reputation around here for her strength and facility with all things mechanical. Sister quickly pulled the cover off, picked up the turning stick, climbed a ladder and began working to get sister to one floor or the other. Don't be fooled by sister's lightweight jacket (the first thing she grabbed), it was very cold out for New Jersey with a windchill of -6!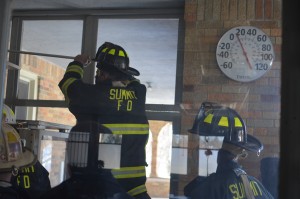 Eventually, even the never-say-die Sister Mary Magdalene (who recently made her solemn profession of vows) was defeated by the old clunker and so the firefighters were called in for a rescue!
Because they are nuns and not worldly, like me, I don't believe it ever occurred to the sisters to share their "adventure" on their blog and end it with a pitch for pledges — they are much more used to pleading on our behalves than on their own — so I am doing it for them: let us help the nuns to not get stuck in lifts! Nuns, especially older ones, should not be exposed to frigid elements, either because they're help captive in metal boxes (sister must have been so cold!) or climbing on ladders trying to get them out (ditto!); nuns should be warm, and safe, and undistracted from their much-needed prayers, which are for all of us.
They've raised 1.2 million dollars for their campaign — for emergency accesses they currently do not have, for an elevator, for visitors, and physical therapy sessions (now held right outside the chapel) — and they have a ways to go. Check out their video, below, or their campaign brochure, and you'll get a sense of how badly they need our help.
*I really can't tell whether I prefer the new Tuscan Herb Soap or the Spearmint/Eucalyptus Goat Milk Soap better. The whole family loves both soaps, a lot. And the tumbler candles, used up, are our new favorite drinking glasses!