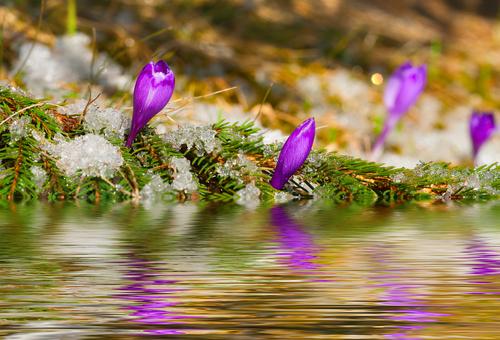 Not to keep talking about about me, me, me, but here I go:
In my column at The Catholic Answer magazine, I relate a little of what a crank I become when I am stressed out:
Recently, I began the day very badly.

I opened my eyes and was immediately stressed about my life, largely because I am so recalcitrant and backward. Even before my feet hit the floor I was grousing at God and barking orders at the saints.

Then I shuffled into my oratory, lit my candles, covered my head and settled down to the Liturgy of the Hours. Asking the Lord to open one's lips, "that my mouth may proclaim your praise," after one has already begun an internal dialogue full of kvetch is a humbling thing. It reminds me, each day, that I have a predisposition toward sin, and that my mind all-too-willingly tumbles into it, seemingly in every unguarded second.
I think this endless winter is certainly contributing to my case of the cranks, but as I relate in this piece, the act of morning prayer (and of giving oneself over to a little psalmody) can be a great balm, and a perspective-builder.
God arrays himself in the splendor of all of it, wears it, and wears it out, like garments needing changing.

And that is us, as well. If we are to be Christ to each other, to become the presence of God that is Love, Mercy and Justice to each other, then our whole life is, like winter and summer, the quest to become wholly and fully ourselves, who we were created to be, in Christ, until we cannot be more of what we are. To let God array himself in us, and then wear us, until — if we are true saints — we are worn out.

Well, if God is going to suit up with us, and make us His raiment — and He is — then, no wonder Thomas Merton looked at the people at Fourth and Walnut and saw them shining like the sun! Of course, if we offer to be used, we'd better mean it, because as we have seen with St. John Paul and Blessed Teresa of Calcutta, when one makes that offer, Christ will use that gift until one is completely and wholly used up, until you are nothing more than cinder. Until you can't be summer anymore, and must burst into splendid autumn. Being used up is what brings the splendor, but we don't trust that; we hold ourselves back, insist on maintaining the illusion that a season, held dear, can extend into forever.
You can read it all, here. Actually you can access all of my Catholic Answer columns, right here.
And if you're not currently subscribing to The Catholic Answer, you may want to. It's an excellent resource for the kind of continuing adult formation that we Catholics need, and also a good publication to keep lying around where your teenagers might pick it up and browse through it.