It is only when life has been accepted and is perceived as accepted that it becomes also acceptable. Man is that strange creature that needs not just physical birth but also appreciation if he is to subsist . . . If an individual is to accept himself, someone must say to him: "It is good that you exist" – must say it, not with words, but with that act of the entire being that we call love. – Principles of Catholic Theology
Pope Francis offered Mass, today, for his predecessor, on the occasion of his 88th birthday.
The book featured above shows my favorite image of Father Benedict: with a book, his eyes snapping with intelligence and warmth. I look at it and imagine him looking up, saying, "hello, dearest Lizzie, will you have tea?"
Ah, to the the writings of Pope Benedict/Joseph Ratzinger — I think I first learned to love and appreciate him through this exquisitely wrought collection of excerpts from his books and homilies, put out through Magnificat Magazine. I've been hooked every since.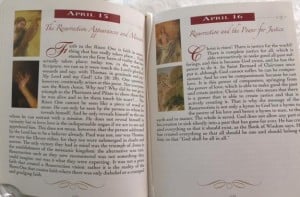 For his birthday, thought I would share a few quotes from some of my favorites of his books, exhortations and encyclicals.
"Are we not perhaps all afraid in some way? If we let Christ enter fully into our lives, if we open ourselves totally to him, are we not afraid that He might take something away from us? Are we not perhaps afraid to give up something significant, something unique, something that makes life so beautiful? Do we not then risk ending up diminished and deprived of our freedom? . . . No! If we let Christ into our lives, we lose nothing, nothing, absolutely nothing of what makes life free, beautiful and great. No! Only in this friendship are the doors of life opened wide. Only in this friendship is the great potential of human existence truly revealed. Only in this friendship do we experience beauty and liberation. And so, today, with great strength and great conviction, on the basis of long personal experience of life, I say to you, dear young people: Do not be afraid of Christ! He takes nothing away, and he gives you everything. When we give ourselves to him, we receive a hundredfold in return. Yes, open, open wide the doors to Christ – and you will find true life. Amen."
― First homily as Pope Benedict XVI
[Humanity] was not just thrown up into the world by some quirk of evolution. The underlying truth is that each person is meant to exist. Each person is God's own idea. Within everything that just for the moment exist factually, a plan and an idea are at work, and this gives meaning to my search for my own ideal self and to my coexistence with the world and with the onward path of history."
God and the World: A Conversation With Peter Seewald
"If in my life I fail completely to heed others, solely out of a desire to be 'devout' and to perform my 'religious duties', then my relationship with God will also grow arid. It becomes merely 'proper', but loveless."
― Pope Benedict XVI, God Is Love–Deus Caritas Est: Encyclical Letter
Jesus stands for all victims of brute force. In the twentieth century itself we have seen again how inventive human cruelty can be; how cruelty, in the act of destroying the image of man in others, dishonors and destroys that image in itself. The fact that the Son of God took all this upon himself in exemplary manner, as the "Lamb of God", is bound to make us shudder at the cruelty of man, on one hand, and make us think carefully about ourselves, how far we are willing to stand by as cowardly or silent onlookers, or how far we share responsibility ourselves. On the other side, it is bound to transform us and to make us rejoice in God. He has put himself on the side of the innocent and the suffering and would like to see us standing there too.
God and the World: A Conversation With Peter Seewald
It is the question that is also asked by modern political theory: Can politics accept truth as a structural category? Or must truth, as something unattainable, be relegated to the subjective sphere, its place taken by an attempt to build peace and justice using whatever instruments are available to power? By relying on truth, does not politics, in view of the impossibility of attaining consensus on truth, make itself a tool of particular traditions that in reality are merely forms of holding on to power?

And yet, on the other hand, what happens when truth counts for nothing? What kind of justice is then possible? Must there not be common criteria that guarantee real justice for all—criteria that are independent of the arbitrariness of changing opinions and powerful lobbies? Is it not true that the great dictatorships were fed by the power of the ideological lie and that only truth was capable of bringing freedom?"
― Pope Benedict XVI, Jesus of Nazareth, Part Two: Holy Week: From the Entrance into Jerusalem to the Resurrection
"It is theologically and anthropologically important for woman to be at the center of Christianity. Through Mary, and the other holy women, the feminine element stand at the heart of the Christian religion. And this is not in competition with Christ. To think of Christ and Mary as being in competition means ignoring the essential distinctions between these two figures. . . . That is not a competition, but a more profound kind of intimacy. The Mother and Virgin forms an essential part of the Christian picture of man."
God and the World: A Conversation With Peter Seewald
Intolerance and cruelty have occurred in the name of truth. To that extent people are afraid when someone says, "This is the truth", or even "I have the truth". We never have it, at best is has us. No one will dispute that one must be careful and cautious in claiming the truth. But simply to dismiss it as unattainable is really destructive.
(…) We must have the courage to dare to say: Yes, man must seek the truth; he is capable of truth. It goes without saying that truth requires criteria for verification and falsification. It must always be accompanied by tolerance, also. But then truth also points out to us those constant values which have made mankind great. That is why the humility to recognize the truth and to accept it as a standard has to be relearned and practiced again.

The truth comes to rule, not through violence, but rather through its own power; this is the central theme of John's Gospel: When brought before Pilate, Jesus professes that he himself is The Truth and the witness to the truth. He does not defend the truth with legions but rather makes it visible through his Passion and thereby also implements it."
― Pope Benedict XVI, Light of the World: The Pope, the Church, and the Sign of the Times – A Conversation with Peter Seewald
As you can see from these excerpts, I would highly recommend God and the World; his extensive conversation with Peter Seewald was the first Ratzingerian book I purchased after the Benedictus book, and reading it was a revelation. All three of the Jesus of Nazareth books are "must haves" in any Benedict collection, as are his encyclicals. And I really love Co-workers of the Truth, another great gathering of excerpts.
He has been such a prolific writer that I doubt one person could ever read it all, but if you have not read Ratzinger, I urge you to pick up a book and dive in. He is completely accessible, easy and pleasant to read, and just stunning, all the time.
Related:
The Power of the Message, "It is good that you exist!"