If you have not had the opportunity to watch the YouTube video in the previous post, now would be a good time. Tonight, in a tribute to sanity, several thousand protestors arrived – on one day's notice – for a rally in Beit Shemesh. Secular and religious Jews, including a few moderate Haredim, joined together to express their outrage.
It's terrific and I'm the first to applaud this demonstration of sensibility. But before we start celebrating the end of Haredi misogyny, let's remember that negativity about women – if not the violence – is widespread in Haredi Judaism.
In yesterday's "Judaism" section of ynet, Nehemia Rosenfeld had a great piece with a few examples of how Haredi Jews are educated and acculturated. The full article is available only in Hebrew, but here are some highlights:
The newspaper "HaModia" brands itself as "the daily newspaper of Haredi Judaism," and it is indeed the most widespread paper in that sector. The newspaper belongs to the Agudat Yisrael faction which is part of the Torah Judaism Party [and sits in the government coalition]. Many in the Haredi public view "HaModia" as the organ of the Gur Hasidim and the newspaper makes no effort to conceal this.

Now no one would think to call MK Yaakov Litzman – the Gur Hasidic representative in Agudat Yisrael – a radical. [He is Israel's Deputy Minister of Health, but is actually the acting minister, choosing the "deputy" title to minimize the appearance of being Zionist.] And moreover, no one would ever call the Gur Hasidim, one of the largest and most dominant Hasidic groups in Israel, a marginal group or a minority voice.

And yet, as anyone who's ever thumbed through "HaModia" knows too well, women's pictures are forbidden in its pages. In the past they have edited out pictures of female politicians even in large group photos of the government. There are also other very bizarre editorial decisions made by this most "mainstream" of Haredi newspapers and Rosenfeld reproduces them.
You will laugh, but try not to laugh too hard. As funny as these are, they represent something very ugly and very dangerous. Just ask poor little Na'ama Margolis.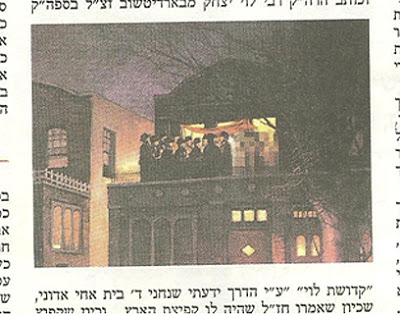 Here is a picture of a wedding. Notice anything funny about the bride and her mother?Apparently this poor groom is marrying a woman with a severe case of pixelaton.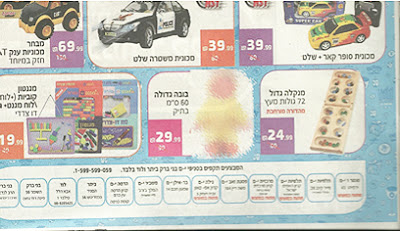 This must have been a female doll. Can't have that.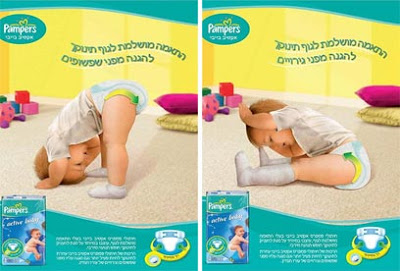 An advertisement for Pampers. On the left is how it appeared in the secular press. On the right the baby's butt is no longer sticking up in the air (maybe that's too provocative) and her (his?) socks are now knee-high.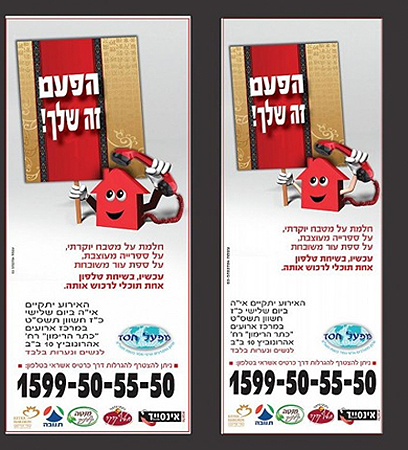 Notice the difference between the two? The one from "HaModia" (left) has sleeves! Because without sleeves it's a pretty provocative house (or phone or whatever).