Yesterday I commented in a post that the one flag flying high atop its post in South Carolina is the racist flag of the Confederacy on the grounds of the state's capitol. I'm sure this warms the heart of Dylan Roof, the terrorist behind the massacre at the Emanuel AME Church.
He clearly loves that flag as he shows us in this just-released photo: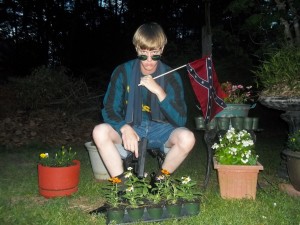 The New York Times is reporting that a website has been revealed featuring his racist rants. This is just one of many photos he posted there:
A website with a white supremacist manifesto features dozens of photos of Dylann Storm Roof, the man accused of killing nine people at a church in Charleston, S.C., posing with weapons, burning an American flag and visiting Southern historic sites and Confederate soldiers' graves.
The Times is also reporting that the site includes links to racist rants against Hispanics and African Americans.
I wonder if our Republican presidential candidates and FoxNews reporters will be able to tease a motive out of this. Or are they planning to stick with their "attack on religious liberty" trope?