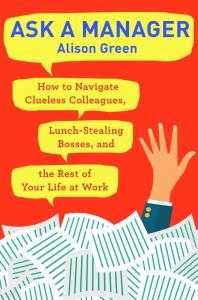 If you've read my blog for a while, you'll know it's no secret that I'm a big fan of Ask A Manager, a career-advice column written by Alison Green. I discovered her blog in 2008 while looking for tips for revamping my résumé, and I was immediately hooked.
Green's advice is very rarely off the mark, and her scripts for difficult conversations are superb. She has a knack for distilling complicated situations down to a few essential points, and then providing clear, logical, and succinct steps for resolution or action.
Her book is much the same. It's a comprehensive compilation advice that she's written in her column over the years; sort of a "greatest hits" version of her blog in book format.
It contains four chapters:
Chapter 1 – Conversations With Your Boss
Chapter 2 – Conversations With Your Co-workers
Chapter 3 – Conversations When You're the Boss
Chapter 4 – Conversations With Your Job Interviewer
Don't let the small number of chapters deceive you — each chapter is quite lengthy. Chapter 1, for example, contains 50 Q&A style entries, with topics such as, "Your boss is unhappy with your work" (#1), "Your manager is a bottleneck in your work," (#14), "Your boss contradicts himself on priorities and work instructions" (#23), and "You're going through a hard time in your personal life (#40).
Chapters 2 and 3 also contain 50 entries, and Chapter 4 contains 30 entries. Each entry has several pages dedicated to it; I'm hard-pressed to think of a topic that isn't covered in each chapter. As always, Green's advice is efficient, logical, and extremely candid.
Disseminated throughout the book are actual letters from her blog — ones regular readers will quickly recognize. I was pleased to see that she had included several of the more memorable letters that have appeared over the years. (One of my favorites, simply for its sheer jaw-dropping lunacy, is "My boss keeps stealing my lunch" (page 779, Kindle version).
I was also pleasantly surprised to see that there is an audiobook version, narrated by the author herself. Having listened to her podcast, I'm sure it's very well done.
This book is a must-read for any professional in the workforce, from an entry-level new graduate just starting out all the way up to the CEO of a Fortune 500 corporation with 30 years of experience. This would make an excellent graduation gift as well. You can get your copy here:
Please note:
JoAnna Wahlund is a participant in the Amazon Services LLC Associates Program, an affiliate advertising program designed to provide a means for sites to earn advertising fees by advertising and linking to www.amazon.com.