October really flew by, didn't it? I've been posting updates on The Catholic Working Mother Facebook page but have sadly neglected this blog!
Here's a brief recap:
Peter's Surgery
Peter's surgery took place on October 28 (there was a cancellation, so we were able to reschedule it for a day earlier; the check-in time was earlier in the morning, making it easier for Peter to fast before the surgery). It went very well. Coming out of anesthesia was a bit rough for him; poor guy, he threw up twice. After a few doses of anti-nausea meds, though, he perked right up.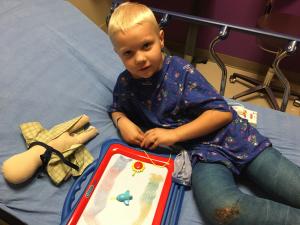 He was very resistant to taking pain meds at first, but now he's a pro! Thankfully, he only needed those for a few days. He was even able to trick-or-treat on Halloween!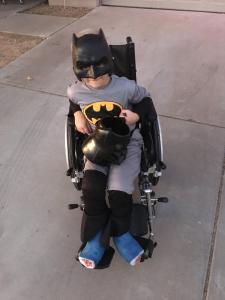 He's been in the same set of casts since his surgery, and he will be out of casts and into AFOs as of December 11! He will likely need the wheelchair for a week or two more as he re-learns how to walk, but just being out of casts (and able to take baths again!) will be such a relief. I am counting down the days.
Thank you to everyone who so generously sent Peter gifts during the casting process — he was thrilled with them and it made him actually excited for the appointments! He received so many that I was able to give him some new toys in the hospital, too, and they helped keep him occupied.
 Our New Wheels
We ended up trading in our Nissan Armada SUV, which has been a money pit since we bought it in 2015 (in anticipation of baby #6, although due to my two consecutive miscarriages we didn't end up having baby #6 until 2017). The last straw was when the cruddy, cracking overhead center console crashed down (thankfully while no one was in the car), and it turned out that it was a part that was no longer manufactured. Even a used one online was $700. It wasn't safe to drive it without the center console, either, due to exposed wires and such (it would have rendered the rear air conditioning and heat inoperable as well).
We ended up deciding to cut our losses and traded it in for a 2016 Chevy Traverse.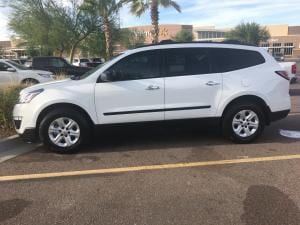 I call her Ethel.
The Counsel of Trent
I was thrilled to appear on Trent Horn's podcast, The Counsel of Trent, on October 29. I've been a fan of Trent for a long time (his book Persuasive Pro-Life is excellent!) so this was a genuine treat. We had a great conversation!
My First Book Signing & My Birthday!
I participated in my first book signing on November 2, the Just Read Local Author Fair, sponsored by the Phoenix Public Library. I didn't sell any books (not surprising for a non-Catholic event), but I had fun and did a little bit of networking.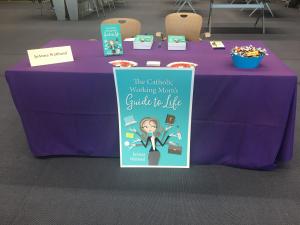 The day after that, I celebrated my 39th birthday. I went to see the movie Harriet (it's excellent!), and did a little bit of reading and a little bit of shopping. I also had a lovely meal out with my husband. All in all, a great way to start the last year of my thirties.
My Last Hurrah
From November 7-10 I was in Colorado Springs, CO with Rose, my best friend from college. The airfare was a combination Christmas/birthday gift from my wonderful husband. We went to Whose Line Live (hilarious!), did a bit of hiking, and drove up to Pikes Peak.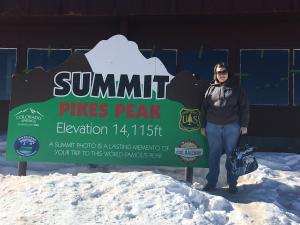 In between times, we sat and gabbed. It was a great visit, and I'm so glad I had the opportunity to take the trip, because…
I'm Going Back to Work!
Thanks to mounting medical bills and now the added expense of our new vehicle, I started job searching in earnest last month, but I didn't expect to find something this fast. However, I had an interview with a document processing firm with a location here in Phoenix on November 6, was offered the position on November 7, and I formally accepted on November 8. It's a raise in pay from what I was making before (yay!), a slight step up career-wise, and the schedule is Monday-Friday, 2pm to 10pm.
That schedule means I can still put Peter on the bus in the morning, as well as make sure the other kids get off to school on time. Ellie gets home from school two hours before Peter does, and, as a high school freshman, she is old enough to meet him off the bus in the afternoons, and watch him until Collin gets home from work.
Laura will likely go to daycare, either full-time or part-time, depending on what is less expensive (we are finding that full-time daycare isn't that much more expensive than part-time, surprisingly enough).
I'll have mornings free for doctor appointments and errands, and as I won't be driving during rush hour, my commute is pretty reasonable — only about 40 minutes. So, I think it's a good thing, all around! Please pray for me as I adjust back to a full-time work schedule, and for our family as we transition. I start on 11/25.
I prayed a novena to St. Jude that ended on his feast day (October 28), asking for a successful surgery for Peter and a good job for me. Both of those prayers were granted, and I'm so thankful!