I took a brief hiatus from blogging due to family road trip. I drove myself and my middle four kids (ages 10, 8, 6, and 4) from Phoenix, Arizona to Fargo, North Dakota. For those keeping score at home, that's 1,895 miles, give or take a few. It took us three full days.
It's a long story, but my husband flew up a few days later with my oldest daughter and youngest daughter, and he had to fly back two days later. My kids and I stayed in North Dakota — where both my husband and I were both born and raised — for a little over a week. We attended my father-in-law's surprise 70th birthday party, something my husband and his two brothers have been planning for months, and visited several other relatives. We went swimming with my sister and stepsister and their families, visited my grandmother several times, went to a Scandinavian Heritage Festival at the Hjemkomst Center, and very much enjoyed the cooler weather.
We departed for home on Tuesday, and we had my youngest daughter (age 1) with us, as well as my father. (My oldest is staying in North Dakota with relatives for a few more weeks.)
As we drove through South Dakota, using the quickest route calculated by Google Maps, I started seeing highway signs indicating the proximity of De Smet. When I realized we were going to drive right through it, I told my father and my kids that we HAD to stop and see the Laura Ingalls Wilder Historic Home and Museum. After all, she was one of the inspirations for the name of my daughter, Laura Rose, and I didn't know when I'd have the chance to see it again.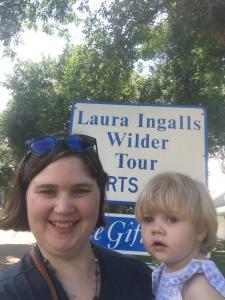 Unfortunately, we didn't have time to do the guided tour, but we were able to see the houses and one of the exhibits. I spent $70 dollars at the gift shop — along with toys for the kids, I paid entirely too much for her autobiography, but I figured the money was going to a good cause — plus my dad bought me a calendar and a cookbook as an early birthday gift.
While we were looking at one of the exhibits, I noticed a guy with a video camera walking around. I didn't pay much attention to him until he came over and asked me if I would be willing to share my thoughts about the issue described in this article.
So I did, and I said (in a nutshell) that I thought it was a mistake and a travesty to punish historical figures for living in the times that they did. I said that Laura Ingalls Wilder was a pioneer and a suffragette who had made many advances for women in her era, and she should not be blamed for not having the same ideals and beliefs of a woman in the 21st century.
(Incidentally, it turns out I was on the news in that evening. A Facebook friend who lives there messaged me and asked me what the heck I was doing in South Dakota!)
I really dislike this trend of judging the beliefs of historical figures by the standards of modern society. It's what leads to banned books. As the National Review article points out, Wilder's books were actually quite fair and balanced, all things considered. If she had advocated for the genocide of the Native American people, I could understand the outrage a bit better, but she portrayed them quite sympathetically. And one of the few black characters — in fact, I think the only black character — in the book was portrayed as a hero who saved Laura and her family from dying of malaria.
Those books were among the literature that shaped my childhood, along with Little Women and Anne of Green Gables. What next? Will the Association for Library Services to Children also castigate Louisa May Alcott and L.M. Montgomery for not being inclusive enough?
I'm glad I had the opportunity to speak my mind about this issue, and it's made me eager to read Wilder's autobiography and to start reading the Little House series to my kids.