Please note: This post contains affiliate links. You can read my full affiliate disclosure here.
Thanksgiving 2018 was a resounding success. I spatchcocked our turkey, and it was AMAZING. Such crispy, flavorful skin and moist, tender meat! As an added bonus, it only took EIGHTY MINUTES for my almost-14-pound turkey to cook! I'm never roasting a turkey the traditional way again. This video was a tremendous help with the process.
One piece of advice: be sure to invest in some good quality, heavy-duty kitchen shears — maybe these or these. I made the mistake of using a standard pair that I purchased at my local grocery store for a few dollars, and they ended up breaking midway through the process. I had to finish the job with a butcher knife, which made it a little more difficult.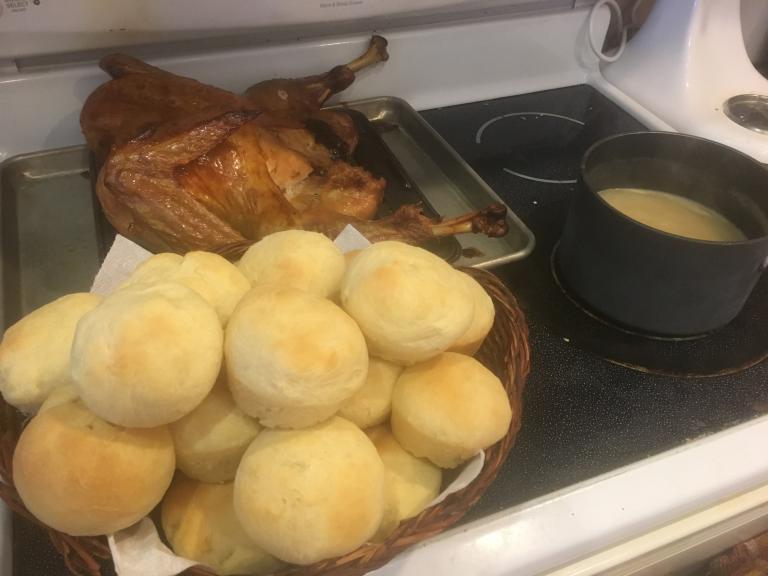 I made so much stuffing that I think I'm going to freeze half of it and eat it at Christmas (my husband is the only one who likes stuffing, so I have no idea why I made a 13×9 pan full of it).
OH. One other tip. After I spatchcocked the turkey, I put the backbone, neck, and other turkey innards into my beloved Instant Pot, along with a bag of frozen mirepoix, minced garlic, some fresh herbs, and 10 cups of water. Less than three hours later, I had turkey stock! (It took about 30-45 minutes to come to pressure, 60 minutes to cook, and I did a 60-minute natural pressure release.) I used the stock in my stuffing and also to make gravy. I plan to make more now that I have the whole carcass at my disposal. This is the best time of year to get an Instant Pot as there are lots of sales. Right now, as of this writing, it's only $60 on Amazon!
I also recommend getting one of these Instant Pot steamer baskets. After my two youngest kids stole and broke TWO petal-style steamer baskets (I do not know why they are so obsessed with them, but they are), I finally bought a pot-style steamer basket instead. It arrived on Wednesday and worked wonderfully during Thanksgiving prep. I used it to strain my stock and my gravy, and I used it to steam green beans as well.
The
Apple Cider Bourbon Sangria
was very tasty indeed, and also quite pretty to look at: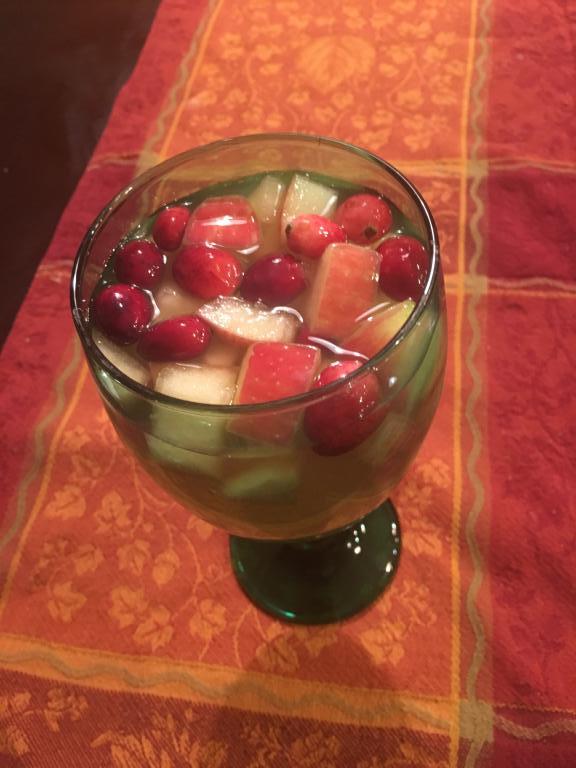 My gravy was only so-so (it was too thin, so I thickened it with flour and it got too thick and lumpy), and my pecan pie got a little too brown (I should have tented it with foil, but I forgot). Otherwise everything else turned out wonderful.
I cooked enough for an army, and now comes another monumental task: eating up all the leftovers. I'm on the hunt for recipes, and here are a few that caught my eye:
Chicken Cranberry Brie Tartlets – substituting turkey for the chicken. These sound divine, and I don't use my mini muffin pan nearly often enough.
Cranberry Orange Muffins with Pecans – I have leftover cranberries and leftover pecans, and I think I can use them both up with this recipe!
Red Wine Brownies with Drunken Cranberries – I might have to buy some dried cranberries, or buy whole cranberries to dry (maybe they'll be on sale?) just to try this recipe. Oh my gosh.
Crockpot Turkey and Rice Soup – sounds like winner for one of the upcoming lazy weekend days. Or maybe next week when my husband will be gone on a business trip and I'll be solo parenting.
Turkey-Bacon Alfredo Casserole – this sounds amazing, and I know it'll be a winner with the kids. They generally love anything that involves bacon, noodles, and alfredo sauce.
Do you have any good recipes for using up Thanksgiving leftovers? Share in the comments!