Please note: This post contains affiliate links. You can read my full affiliate disclosure here.
I'm writing this review of Haley Stewart's new book, "The Grace of Enough: Pursuing Less and Living More in a Throwaway Culture" at the small park and splash pad/skate park near my home.
I hadn't intended to write this on my phone, but the moment my kids arrived home from school today (9/13), they begged me to take them to the park. It's still over 100 degrees in our neck of the woods, and fall, with the promise of cooler weather, seems years away.
My 13-year-old offered to stay at home with the toddler and clean the kitchen while I was gone, so how could I say no? (Yes, I won the kid lottery with my oldest daughter. She's a gem.)
Would I have rather stayed home and snuck in another episode of Call the Midwife? To be honest, yes. But my kids keep running up to me and thanking me for bringing them here, so it was worth the trip.
As it turns out, I'm putting into practice two of the principles Stewart discusses in her book: getting outside and into nature (Chapter 3) and making quality time with your kids a priority with inexpensive but meaningful gestures (Chapter 5).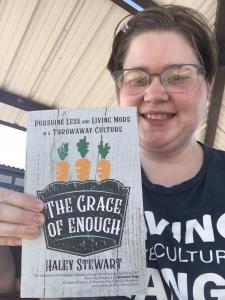 What I like about Stewart's book is that she encourages us to start small and act intentionally. As she acknowledges, "God isn't calling everyone to live without a flushing toilet or to sell everything and move into a tiny apartment" (25).
We can do small things, like taking our kids to the park, even though it's hot, instead of staying home and watching TV in the air conditioning.
And sometimes you can do big things, too. In the first chapter, Stewart describes feeling "stuck" in the lives they were living in Florida.
Her story resonated with me, because I remember feeling the same way when my husband and I were living in North Dakota. "I don't know what we should do," I told my husband, "but I do know we need to make a change. We are stagnating here."
Collin, however, had an idea. He proposed moving across the country to Arizona. I was staggered by his suggestion and filled with doubts. We prayed, and talked some more, and considered all the pros and cons.
He felt that God was leading us to AZ; I was more hesitant. I finally said that if we were meant to go to AZ, then any obstacles in our path would have be easily resolved, and that is how we would know we were doing the right thing — and as it turned out, that was exactly what happened.
Collin was able to withdraw from his current semester of college with no penalties (he just barely made the deadline); I found a co-worker of mine willing to take over the lease to our apartment right away so we didn't have to worry about getting out of our lease (our landlord had told us that if we could find a new renter, he'd let them take over the lease instead of charging us the standard fee for breaking the lease early).
Our families, while sad that we were leaving, generously offered help with packing and moving expenses.  This all came about within two weeks of our decision to move. And it turned out to be the right decision for our family. We've lived in Arizona since 2008 and plan to stay indefinitely.
We made a big change, and we can start making small ones, too. As Stewart says,
It's easy to get wrapped up in examining what grand global changes and political systems are most conducive to living out our Christian faith. These are worthy questions and discussions. But what we mustn't forget is that we can start a life of pursuing less and living more ordered toward the Gospel right now, in our homes, in our relationships, in our communities. Today we can invite someone over for dinner, read an extra bedtime story to our kids, fill our spaces with music and art that life our hearts to God, and embrace other small but valuable practices that will change the world. Perhaps these changes must ripple out from our dining room tables, through our families, to our neighbors, into our communities (150).