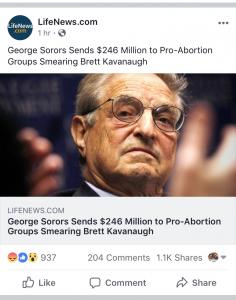 Pro-life site LifeNews published a piece this morning accusing "George Sorors" of spending $246 million to smear SCOTUS nominee Brett Kavanaugh.
Curious, I clicked on their link. And I was subsequently disappointed.
They linked to a report from the Media Research Center stating that "100 of the 544 Women's March partners received a total of $246,637,217 from Soros between 2000 and 2014." Not 2018.
They also discussed additional donations Soros had made to other left-wing groups in the past.
Let me repeat those three words: IN THE PAST.
The headline seems to indicate that Soros gave the sum of $246 million to pro-abortion groups for the direct purpose of smearing Brett Kavanaugh, doesn't it?
That was how I read it. That's what got me to click.
It isn't true, and it's no surprise that a left-wing billionaire gives money to left-wing causes, just like it's not any surprise that right-wing billionaires give money to right-wing causes.
This is shameful and dishonest. It is, in fact, yellow journalism.
And it isn't the only falsehood that has been spread by pro-life entities as of late.
One More Soul claims, based on an article from Natural News, that Kavanaugh accuser Dr. Christine Blasey Ford works for an abortion pill maker, and that is the impetus behind her accusation. She apparently has fabricated a sexual abuse claim because she is afraid that her livelihood will be affected.
However, this is false. First of all, Blasey Ford no longer works for the company in question, and hasn't since 2012. Second of all, the company, Corcept Therapeutics, does indeed manufacture mifepristone, which is often used in conjunction with the drug misoprostol to induce abortion.
However, as PolitiFact.com explains, "The company sells Korlym to treat Cushing's syndrome, a rare, deadly condition characterized by high cortisol levels. Korlym's main ingredient, mifepristone, blocks the effect of cortisol."
Additionally, the article states,
The company explicitly warns about the drug's potential to terminate a pregnancy.

"Korlym should never be taken by women who are pregnant or who might become pregnant," a banner on the website reads. "Taking Korlym during pregnancy will result in the loss of a pregnancy. A pregnancy test is required before starting Korlym or if treatment is interrupted for more than 14 days."
These are the papers that Blasey Ford published during her employ with Corcept (you can read the full citations at the website):
Mifepristone treatment of olanzapine-induced weight gain in healthy men.
Mifepristone reduces weight gain and improves metabolic abnormalities associated with risperidone treatment in normal men.
Administration of a selective glucocorticoid antagonist attenuates electroconvulsive shock-induced retrograde amnesia.
Selective glucocorticoid receptor (type II) antagonists prevent weight gain caused by olanzapine in rats.
Selective Glucocorticoid Receptor (GR) Antagonist Reduces Body Weight Gain in Mice.
Discovery of a novel non-steroidal GR antagonist with in vivo efficacy in the olanzapine-induced weight gain model in the rat.
As you can see, none of the above are even remotely related to abortion, or mifepristone's use as an abortion drug.
These are both untruthful smear jobs, and they are unbecoming of pro-life organizations. We should practice integrity and strive for truthfulness in all things. Publishing hit pieces like this does nothing but weaken our credibility.
I encourage you to contact LifeNews and One More Soul and express your disappointment in their shoddy journalism and unbecoming falsehoods.