My book manuscript was due October 1, and I sent it to my publisher at 11 PM on Sunday night. (Nothing like waiting until the last minute, huh?)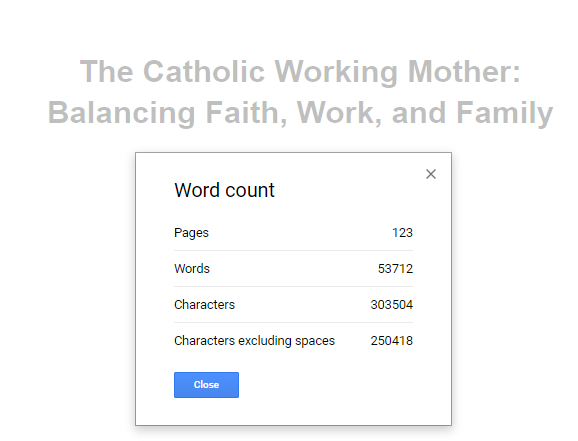 This project has been at the forefront of my mind since April, and it's pretty much consumed my life since the beginning of August. For the last two months (except Labor Day weekend, when my husband and I went to Disneyland for our 17th wedding anniversary), I've been leaving the house every day to go to the public library and write. When the library closed, I'd head to Chik-fil-a or my gym (both of which have free wifi) to write some more. I tried to write during the week as well, but that doesn't work so well with a preschooler and a very active toddler running around.
I actually sent an e-mail to Kate at Sancta Nomina a few months ago and asked how she managed to write HER book with kids underfoot, and that was the advice she gave me — leave the house for dedicated writing time on a regular basis. So I did, and it worked! Mad props for my husband for being so sweet and patient with me when I explained my plan to abandon our household on the weekends, and for also for instantly agreeing.
Now that the book is done, I'm feeling rather dazed and confused and not sure what to do with myself.
Actually, I know exactly what to do with myself — I've been neglecting housework shamefully for the last two months and writing feverishly every spare moment I could manage, so I should probably take a stab at catching up. But my two oldest kids came down with pinkeye yesterday morning, so…. we'll see.
At the very least I need to get a head start on decluttering before the Christmas deluge begins.
But yay! My book is done!