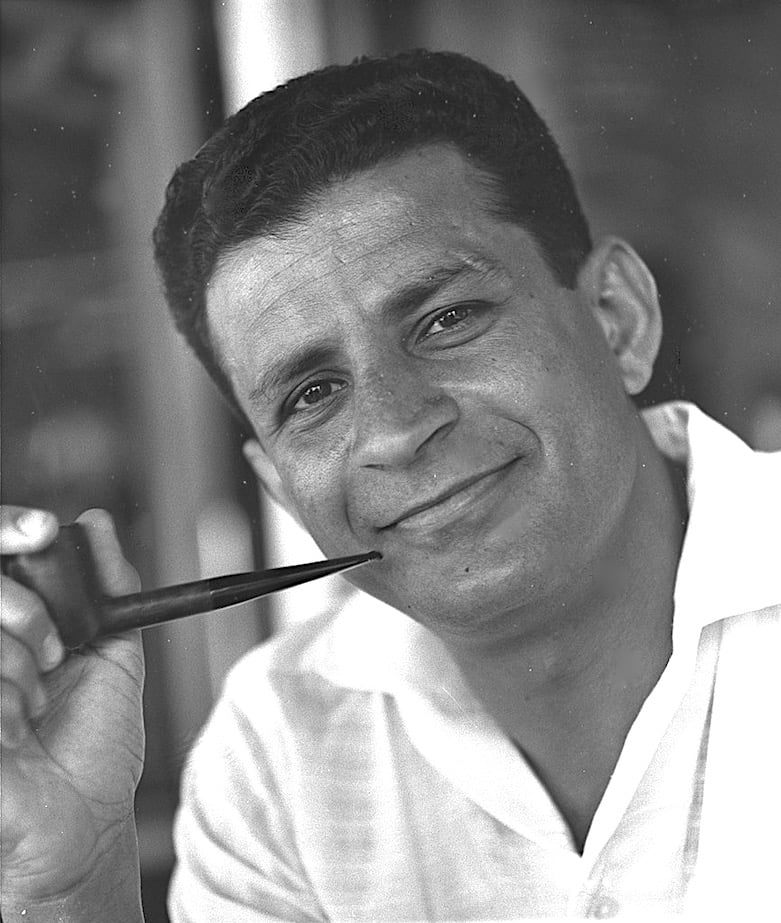 Avraham 'Abie' Nathan was born on April 29, 1927 to a wealthy middle class Jewish Persian family who lived in the city of Abadan, Iran.
He spent his adolescence in Bombay, India (now Mumbai) where he attended a prestigious Jesuit boarding school.
Trained as a pilot in 1944 Abie served in the Royal Air Force. After the war he was a pilot for Air India.
In 1948, Abie volunteered as a combat pilot for Israel during the 1948 Arab/Israeli War of Independence.
Abie remained in Israel. He worked for El Al Airlines and later became a popular restauranteur introducing American hamburgers to the Israeli public at his California Cafe – the 'place to be seen' in the heart of Tel Aviv.
Before the 1965 Knesset elections Abie formed a left wing political party entitled, Nes (Hebrew for miracle). Unable to win a seat in the newly elected coalition, Abie declared himself an Ambassador for Peace and flew to Egypt in an airplane he named, 'Shalom One' (Peace One).
When he landed in Port Said, Egypt in 1966, Abie was immediately arrested.
He asked to meet with Egyptian President, Gamal Abdel Nasser to deliver his 'Petition of Peace' between Israel and Egypt.
Nasser refused.
Abie was deported.
He flew back to Israel, was immediately arrested – this time for leaving Israel by an illegal route. ABIE NATHAN, PEACENIK & HAMBURGERS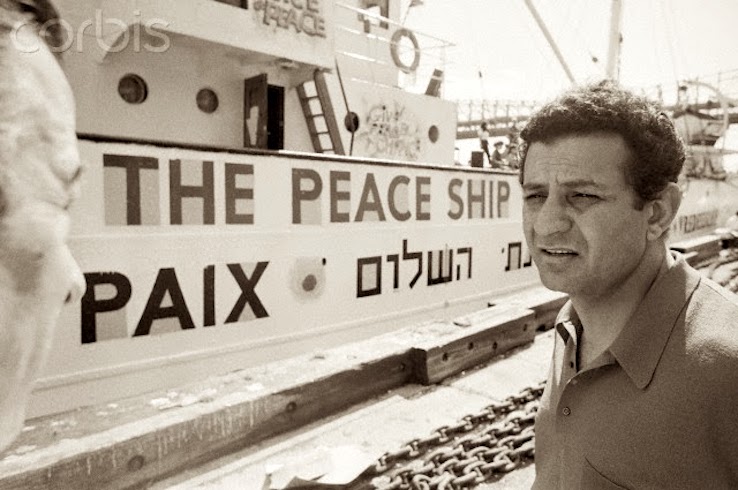 The Voice of Peace
With the help of John Lennon, in 1969, Abie purchased a Dutch 188-foot coastal freighter.
He sailed his newly acquired vessel that he renamed 'The Peace Ship' to New York where he spent the next three years organizing fund raising events to pay for the fixing, refurbishing, sprucing up and transformation of the ship into a floating radio station.
Many international celebrities helped Abie financially including Michael Caine, Zubin Mehta, Gloria Gaynor and Daniel Barenboim. George Harrison purchased and financed installation of radio equipment, while many others including Johnny Mathis and The Carpenters recorded messages of peace.
A generous supporter, John Lennon mentioned 'The Peace Ship' during concert performances of 'Give Peace A Chance.'  John also signed hundreds of peace posters for Abie to sell or auction off when funds were dwindling.
From its launch in 1973 and over the next 20 years 'The Voice of Peace' transmitted 24/7.
With several noteworthy British DJs, 'The Voice of Peace' quickly attracted thousands upon thousands of international students, kibbutz volunteers, English speaking citizens and new immigrants and young Israelis, including many soldiers, eager to absorb the 'Top 40″ British and American music of the day.
While the programs were primarily in English, Abie also broadcasted in Arabic, French and Hebrew.
(Over the next 20 years, with stronger broadcasting equipment, the 'Voice of Peace' audience expanded into 20 million listeners throughout the Middle East, Southern Europe and Turkey. Seducing sponsorship was a game Abie enjoyed. When Coca Cola refused to participate, Abie asked Israelis to boycott the soda company. Abie spoke Israel listened and Coca Cola very quickly acquiesced). 
Fifty Years Ago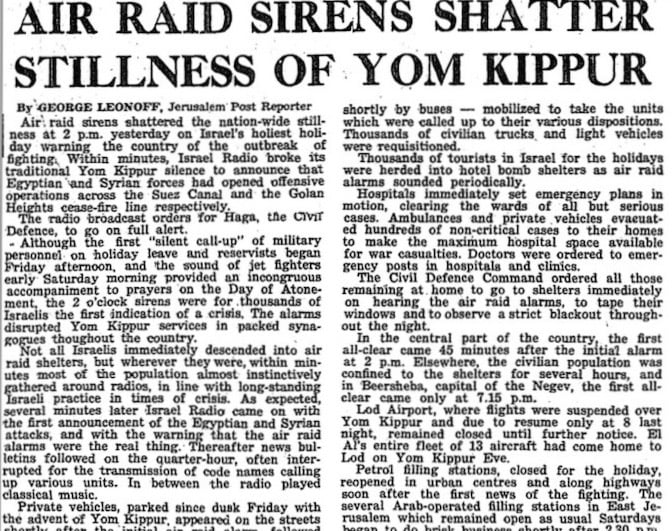 On an unusually warm, early autumn day in 1973, hundreds of thousands of Israeli men, women and children walked to their local synagogue.
It was Yom Kippur, 'The Day of Atonement.' It's singularly the most solemn, sacred and respected of all Jewish holidays.
It is a day of prayer, fasting and contemplation, for this is the moment God closes His Book of Life . Having inscribed the destiny of the collective, the fate of each individual is now sealed for the next 12 months.
According to the Hebraic lunar calendar, Yom Kippur begins on the eve of the tenth day in the month of Tishrei.
Fifty years ago the tenth of Tishrei fell on October 6th.
Yom Kippur in Israel
There's no traffic, no buses, no transportation on Yom Kippur. Everything is closed – all shops, restaurants, theaters, cinemas, gas stations and all media outlets are shuttered.
In 1973, Israel's one television station was shut down along with all radio stations and newspapers. No one even contemplated using a telephone.
To help put this in perspective, fifty years ago there were no home computers, no internet, email, cable news or cell phones. Many homes didn't have a landline telephone and socialist communities (kibbutzim and moshavim) had at best one or maybe two public telephone lines.
On Yom Kippur 1973, the closest connection Israel had with the outside world was Abie Nathan's 'Voice of Peace.'
At 1pm during the top of the hour news bulletin, the 'Voice of Peace' actually mentioned unconfirmed reports of military activity along the Suez Canal which at that time was the Egyptian border with Israel.
30 minutes later, in order to notify top military personnel, pilots and reservists, telephones were ringing.
Unfortunately, thousands of men were not home. They were in synagogue.
And so at 2pm sirens across the country wailed, terrifying the silence of a nation in prayer.
Egged, the national bus company called their drivers and enforced a major, unprecedented emergency 'pick up schedule' for pilots, military personnel and reservists.
Radio stations started to broadcast passwords for military reserve units signally the time and location of bus pick-ups.
By 4pm all men between the age of 23-50 were well aware they would change into their uniforms and prepare for war.
Throughout every city, town, village, community, in every kibbutz and moshav,  bomb shelters were cleaned and made ready.
From the late afternoon and throughout the night, mothers and their children, grandparents, foreign volunteers and all civilians living near an Air Force base felt the thunderous vibrations of military planes revving up. Fighter pilots zoomed away while transport planes filled with soldiers and equipment were slower. They flew very low to hopefully avoid radar detection.
Many many planes left, so very few planes returned.
Throughout the duration of the war, many Israelis relied upon Abie Nathan's 'Voice of Peace' for news and updates. All Israeli news services were under censorship by the government and the IDF (Israel Defense Forces), for the news was dreadful, the death of soldiers trapped in tanks was horrific, Israel was losing and its existence was in danger.
(Another source of news came from Jordan's one television station. Although most programs were broadcasted in Arabic, every evening there was an English language news program. If memory serves me, Jordanian TV also broadcasted news in Hebrew).
The Face of God
The Hebrew word for wind is 'ruach.' The Old Testament meaning of 'ruach' also refers to 'the face of God.'
Amid the endless warnings written by Biblical prophets, it was evident God was angry.
On that day, during the late afternoon, everything changed in one split second. No one in Israel could ignore it.
From the unexpected warmth, wintry clouds appeared across the sky.
Heavy strong winds whistling through tree tops, whipping up dust and fear, quickly changing into a deep wintry chill.
By midnight, the entire military reservists were on their way to war.
By early morning, heard first in the far distance, helicopters were flying into Air Force Bases.
Israeli civilians having experienced war knew – helicopters meant dead bodies. This was not a good omen.
Leonard "Eliezer" Cohen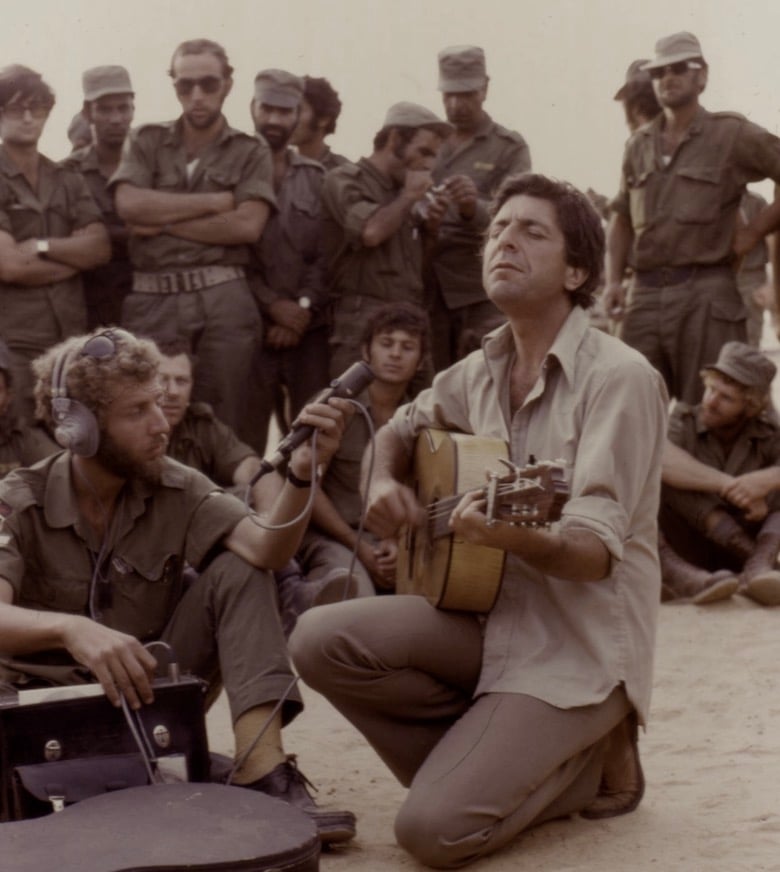 Leonard Cohen was born on September 21, 1934 to an observant, orthodox Jewish family who lived in a suburb of Montreal, Canada.
His Hebrew name, Eliezer means, 'God's help.'
A practicing Buddhist for most of his adult life, Leonard Cohen always acknowledged the importance of his priestly Jewish roots.
The surname Cohen in Hebrew means 'priest.' Anyone with the last name Cohen is from the tribe of priests. Members of Leonard Cohen's family believe they are direct descendants of Aaron, brother of Moses and the high priest of the Hebrews.
Leonard Cohen was a lover of the written word. He claimed William Butler Yeats, Walt Whitman and Henry Miller among those who were his inspiration.
He published his first book of poems Let Us Compare Mythologies in 1956 and throughout the 1950s and 1960s Leonard Cohen continued to write poetry along with dipping into prose and fiction.
Loving his solitude, a hermit at heart, Leonard Cohen purchased a home on the Greek island of Hydra.
There he wrote an autobiographical novel, The Favorite Game, published in 1963. And in 1964, he published of a new collection of poems entitled Flowers for Hitler.
By the mid 1960s, without receiving the accolades and success he truly desired, Leonard turned to song writing.
His first big hit, recorded by Judy Collins was Suzanne.
Having never contemplated a singing career, it simply fell into his lap when Miss Collins invited him to perform in one of her shows.
By the late 1960s and early 1970s, Leonard Cohen was transformed into a musical hero and superstar.
"Lover, Lover, Lover," Leonard Cohen Comes To Israel
During the second week of the 1973 Yom Kippur War, Leonard Cohen flew from Greece to Israel.
Intending to help as a kibbutz volunteer with the cotton harvest, he didn't travel with his guitar.
The story goes that he was spotted by three talented, up and coming Israelis musicians who offered to go with him into the deep Sinai bordering with Egypt to perform for the exhausted and demoralized Israeli troops.
And just like that, it happened.
Leonard Cohen and the three Israelis literally dropped in, usually unannounced into various small conclaves of soldiers, often near burned out tanks and the smell of human ash.
He describes the experience: LEONARD COHEN 1973 CONCERTS IN THE SINAI
"We would just drop into little places, like a rocket site and they would shine their flashlights at us and we would sing a few songs. Or they would give us a jeep and we would go down the road towards the front and wherever we saw a few soldiers waiting for a helicopter or something like that we would sing a few songs. And maybe back at the airbase we would do a little concert, maybe with amplifiers. It was very informal, and you know, very intense."
Leonard Cohen performed three of his signature, most iconic songs that even Israeli soldiers knew: Bird On A Wire, Suzanne and So Long Marianne.
During this time in the Sinai, he started to write a new song entitled, Lover, Lover, Lover which he jotted down in his notebook.
Opening lyrics to Lover, Lover Lover are:
I asked my father, 
I said, "Father change my name." The one I'm using now it's covered up With fear and filth and cowardice and shame Yes and lover, lover, lover, lover, lover, lover, lover come back to me….
Link to the official video with lyrics on YouTube: LOVER, LOVER, LOVER
I Went Down to the Desert, to Help My Brothers Fight
Matti Friedman, a Canadian born Israeli writer and journalist was given permission to explore the private notebooks of Leonard Cohen for a book Friedman published entitled, "Who By Fire: Leonard Cohen In The Sinai." Matti Friedman "Who By Fire"
Friedman found in Leonard Cohen's 1973 notebook, a first draft of his Lover, Lover, Lover lyrics.
Although dropped, never used nor recorded, Leonard Cohen sang these lyrics in the Sinai Desert to his Israeli brethren:
I went down to the desert
To help my brothers fight I knew that they weren't wrong  I knew they weren't right But bones must stand up straight and talk And blood must move around
And men go making ugly lines
Across the holy ground
Epilogue
There's no need or a desire to write more about the Yom Kippur War.
There are more than enough pundits who write books, articles, give speeches along with filmmakers who focus on a war fought fifty years ago.
Yet there is one last memory to share.
Walking through the deserted streets of Jerusalem in October 1973, in every building mothers and fathers, wives and lovers, sons and daughters, friends and colleagues sat in grief.
So many dead, so many funerals, so many in mourning.
To this very day, that track of desert on both sides of the Suez Canal remains a grave site for many men whose bodies were never retrieved, never identified.
And in Israel, for some unknown reason the lyrics of Leonard Cohen's Bird On A Wire were sung or recited seemingly at memorial after memorial.
This is in honor of Leonard Cohen and in memory of all the soldiers who never returned home. May their memories be a blessing upon us all.
Like a bird on the wire.
Like a drunk in a midnight choir I have tried in my way to be free Like a worm on a hook Like a knight from some old fashioned book I have saved all my ribbons for thee.
If I, if I have been unkind
I hope that you can just let it go by. If I, if I have been untrue I hope you know it was never to you.
Oh, like a baby stillborn
Like a beast with his horn I have torn everyone who reached out for me. But I swear by this song And by all that I have done wrong I will make it all up to thee.
I saw a beggar leaning on his wooden crutch
He said to me, "You must not ask for so much." And a pretty woman leaning in her darkened door She cried to me, "Hey, why not ask for more?"
Oh, like a bird on the wire
Like a drunk in a midnight choir I have tried in my way to be free.
…to be continued